By winning the first game of the tournament yesterday team Canada had put all the pressure on the shoulders of the team USA. USA would need a victory over Canada at least with one goal in order to secure the overtime and possible penalty shootout. Winning with two goals would have secured the spot to the WFC Final Round directly.

USA started the game with a very straightforward play without any unnecessary tricks or fancy moves and Canada was able to use that for their own benefit. Bill Petrie scored the first for Canada at 11.35 while Canada was having a power play and took already 2-0 lead at 18.26. 30 seconds after that team USA scored the first and the first period ended with 2-1 lead for the Canadians.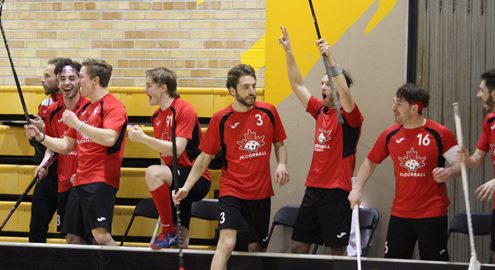 The second period turned out to be the crucial one for the Americans, Canada scoring three goals and going to the last period with a pretty safe 4-2 lead. Canada were able to keep the 4-2 lead until the last three minutes of the game when team USA took off the goalie and could keep up the pressure with six field players. That eventually turned out to be a good solution and at 57.24 USA scored and 20 seconds later they scored the equalizing goal.
Bit more than two minutes to go and the Americans would have needed at least one goal more to secure the overtime and the possibility to get to Prague. Those dreams were crushed just 18 seconds before the end of the game when Felix Robillard scored the fifth for Canada and the Canadian players could start to pack their suitcases for the trip to Prague.
Canada won the first game 3-2 and the second 5-4 and this way secured the spot in the WFC 2018 Final Round. Congratulations team Canada and Floorball Canada. See you in Prague.

Thanks for following, Toronto over and out.