IFF PARAFLOORBALL
The IFF ParaFloorball Function was established by the IFF Central Board during its meeting held on the 11th of December 2010. The mission of the ParaFloorball Function is to coordinate the activities of the different versions of floorball played by disabled athletes. For more information about IFF ParaFlooball Function please contact Merita Bruun at the IFF office (bruun(at)floorball.sport).
At the moment the IFF cooperates with the Special Olympics (SO), the International Committee of Powerchair Hockey (ICPH) and the International Committee Wheelchair Floorball (ICWH).
SPECIAL OLYMPICS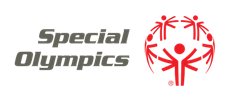 Special Olympics is the largest sports organisation for persons with Intellectual Disability with more than 4,7 million officially registered athletes in 172 countries in all Regions of the World.
Special Olympics includes 35 different sports, 29 summer sports, 6 winter sports Floorball being one of the youngest official sport on this long list.
Special Olympics Floorball
The first Special Olympics Floorball seminar was organised in Denmark 2008 and the first European tournament was played in Austria in November 2010 with 10 teams from seven countries. In 2013 Special Olympics Floorball was a demonstration sport in the SO World Winter Games 2013. In the 2017 Winter World Games in Austria, floorball was an official sport.
For more information, rules and materials go to the IFF Special Olympics Floorball website or visit www.specialolympics.org
IWAS POWERCHAIR HOCKEY FLOORBALL (IPCH)

PCH belongs to the sport section of the International Wheelchair & Amputee Sports Federation, IWAS and IPCH is the International head organisation of floorball/hockey played with electric wheelchairs.
PowerChair Hockey is a sport for people in motorised wheelchairs. PCH is played on an area approximately the size of a basketball court with a surrounding barrier. The barrier is used during play to rebound the ball.
For more information, rules and materials go to the IFF IPCH Floorball website or visit www.powerchairhockey.org
MANUAL WHEELCHAIR FLOORBALL (ICWF)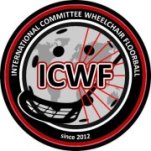 Manual wheelchair Floorball is played almost with the same rules as Floorball, five versus five plus goalkeepers.
The International Committee Wheelchair Floorball (ICWF) was established in 2012 with the aim to spread and develop the sport further. At the moment six countries are participating in the ICWH events.
For more information about Manual Wheelchair Floorball contact ICWF Office: office(at)wheelchairfloorball.org or join ICWF on Facebook:  www.facebook.com/wheelchair.floorball
More information about the sport and upcoming events also on the IFF Manual Wheelchair Floorball website.