POWERCHAIR HOCKEY (FLOORBALL)

PCH belongs to the sport section of the International Wheelchair & Amputee Sports Federation, IWAS, and ICPH is the International head organisation of floorball/hockey played with electric wheelchairs.
Powerchair Hockey is a sport for people in motorised wheelchairs. IPCH is played on an area approximately the size of a basketball court with a surrounding barrier. The barrier is used during play to rebound the ball.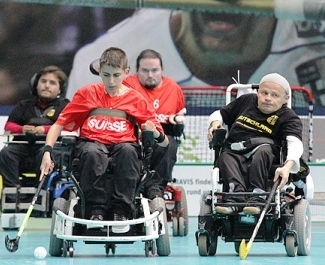 Five players are on the court at any one time but a team may have 2 or 3 substitute players. If possible a team should have two players with 'T – Sticks' (a T shaped stick attached to the wheelchair itself) but at least one must be the goalie.
More information about IPCH from www.powerchairhockey.org
More information about International Wheelchair & Amputee Sports Federation from IWAS webpage.
IPCH Materials
Rules of the game
The rules of the game can be downloaded from the IPCH website http://powerchairhockey.org/general-regulations/
Video clips
Watch IPCH action from the IFF Youtube channel.