Today's game wasn't the first one between these two teams in the Men's WFCQ 2018 Americas, but with some new players in both teams a new game is always a new opportunity as well. After a very exciting game the home team Canada took a very important 3-2 victory against USA.

As was expected the beginning of the game was very careful playing from both teams and the intention was mainly to try to figure out what's the game plan of the opponent. Team USA participated to The World Games last summer and had more experience of hard games than team Canada, but as said so often before, nothing is decided until the game is over.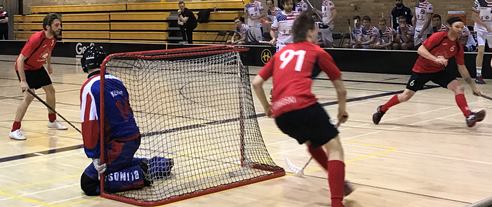 USA pushed hard from the very start of the game on but it took almost all the way until the end of the period before William Eriksson scored the first for USA. In the second period both teams had their chances, but with some spectacular saves by both goalkeepers no goals were seen in the second period. Still 1-0 for USA.
The game actually had a new beginning in the third period. Between 40.37 and 41.37, three goals were scored, two by Canada and one by USA.
A 2-2 draw and still almost 18 minutes left. Team Canada's Valtteri Viitakoski took a big role as the hero of the team Canada by scoring at 46.45 the third goal for Canada and for the first time Canada had a lead in this game. The 3-2 lead held until the end and a very important victory for Canada, which makes their life at least a bit easier for the game tomorrow.

If USA wins tomorrow by one goal, then there will be 10 minutes extra time with the sudden death and penalty shoot out if needed to find out the winner of this qualification and the winning team gets the ticket to the WFC Final Round in December in Prague.
The second game will be on in IFF YouTube channel tomorrow morning at 10:00 local time, which is 16:00 CET.
Match replays are available on IFF YouTube Channel 1 and photos on Flickr.