Floorball may hold much of its popularity in Sweden and Finland – but it required three Danes to take the sport to Special Olympics.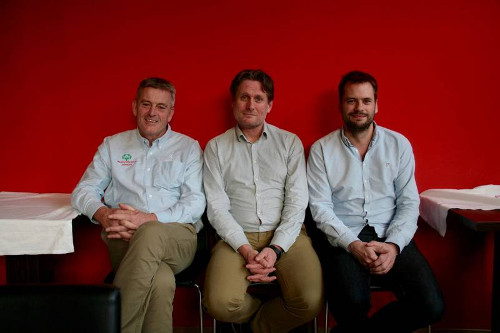 The ´Danish Floorball Mafia´ consists of Jesper Hviid, Steen Haumann and Jonas Hviid. (Photo: Caroline Tranberg)
– It feels good to be faster than the Swedes on this one, says Jesper Hviid, one of the three Danish guys that goes by the nickname "The Danish Floorball Mafia".
– It has gone so quick. People have seen the rise of floorball has gone from 0 to 100 in the last six-seven years. From nowhere to become the largest discipline of all, as in these Winter Games.
Jonas Hviid explained to AIPS how they got the humorous nickname from Special Olympics Euroasia's Sports Director Mariusz Damentko, because of the marvelous rise. Four years ago in South Korea, floorball was only a demonstration sport with just eight teams – in Austria in 2017 they were 42 teams, even surpassing the resembling sport of Floor Hockey.
– In Korea there was 70 Floor Hockey teams. Now we have 42 and Floor Hockey has 40. So it is quite easy to see what is happening. Floor Hockey needs a full pitch of hard surface to make the puck slide, whereas floorball can be played on grass and dirt in Nigeria. It is a much closer step for many countries to take, he said.
It has not been easy though for them to find the support of Floorball as a discipline of Special Olympics. Most of the resistance have come from the competition management of Floor Hockey, who feared that the sports would knock each other out. But through IFF, the International Floorball Federation, they quickly got an application in store for becoming a part of the Special Olympics and then, it all went smoothly.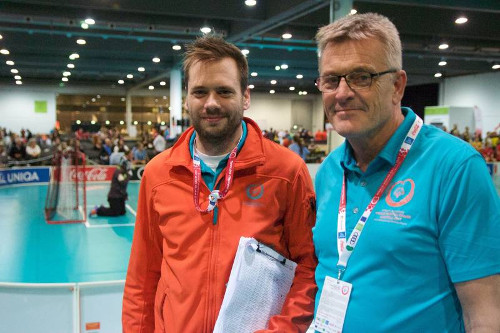 Jonas Hviid and his father Jesper brought Floorball to Special Olympics. (Photo: Jakob Romeborn)
– We have been speaking to the right persons, who have pushed on. We have been able to speak to some key people – among them Åse Thorheim, second highest in rank of Special Olympics International and Norwegian. She is on our side, and has been a big help, Jonas said.
– From the beginning Jesper had a really good network in Special Olympics, because he has been Sports Director of Denmark for 10 years. Steen had good connections inside the official sports federations, and I was still a player. It was a very good mix.
Steen Houmann is the third member of the 'Floorball Mafia', and has maybe been even more important than father and son Hviid when it comes to promote the sport.
– I held a floorball seminar at the last Winter Games. It was about both Floorball and Floor Hockey, so we wanted to show the differences.
– But we never spoke negatively about Floor Hockey. The participants of the seminar played Floor Hockey. But for example the German coach who was here this year also took part in the seminar – and saw the potential of Floorball, Steen Houmann says.
One of the reasons that Floorball got to be a sport in the Special Olympics was because it requires relatively little to arrange and the costs are smaller than in Floor Hockey. Otherwise they would probably not have gotten the chance as the sports are very similar to each other.
– For the Special Olympics they fly 16 American floor hockey referees to the Games. We only needed to contact the Austrian Floorball Association and they provided us with the referees we needed, Jesper gave an example.
The next time they hope that the Floorball tournament will be even bigger.
– Actually we have heard from many countries, who used to play Floor Hockey but have watched the Floorball tournament this year in Austria, that they will come with a Floorball team instead. That's what we are hoping for, so that the sport can spread even more across the world, he added.
Text by Jakob Romeborn and Caroline Tranberg, AIPS Young Reporters. Read the original article here: