Canada and USA will play two matches and the combined result decides which team will play in the World Championships Final round in Finland in December. The qualification matches are played in Hamilton, Canada (Salt Fleet School). USA´s current world ranking is 13th and Canada is currently ranked 23rd.
05.02.11:30USA M – Canada M (17:30 CET)
06.02.13:00Canada M – USA M (19:00 CET)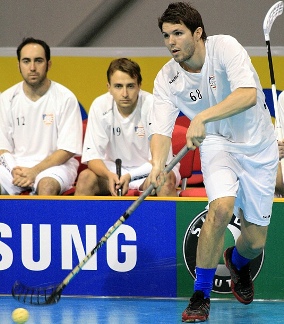 USA will play with a new team as the next generation is stepping up. The team is confident that the mix of experience and enthusiasm will be a winning formula against Canada in the Qualifications. USA´s goal is clear, to make it to the World Championships in Finland in December.
The three players from Raleigh, home of the first floorball rink in America, are the next generation of floorballers in the states. The defender Jacob Wyde # 4 and the forwards Justin Pettersson # 84 & Umang Patel # 3.
There are also players from Finland, Sweden and Switzerland in the US team. USA´s top scorer from the B-division 2008 with 10+4, Karl Förare (pictured) from Hagunda IF, Sweden, is a player to note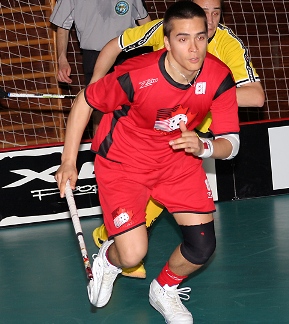 Canada´s goal is to be a stronger team than in the C-division in Bratislava where they were placed 3rd. The team will play with good spirit in the Qualifications on home ground with the aim to play in the WFC Final round in December.
The club team Fight Club Montreal is well represented in the national team as eight players from Montreal are in the final roster.
Team Canada also includes two players who play in the highest league in Finland. The forward Risto Parikka # 21 is a goal scorer from Trackers and the defender Lauri Hannelius # 6 is a playmaker from the Finnish League team KooVee.
Philip Schuler # 81 (pictured) who represents the Swiss NLB clu Zug United, is another goal scorer to look out for. He scored 8+2 in the WFC C-division 2008.