Slovakia (ranked 21st), Spain (ranked 22nd) Liechtenstein (ranked 27th) and Georgia (ranked 29th) will challenge the favourites in the WFC tournament in Spain. 
Slovakia has played some good international matches since the last WFC C-division and might have a very good chance of qualifying to the Final round.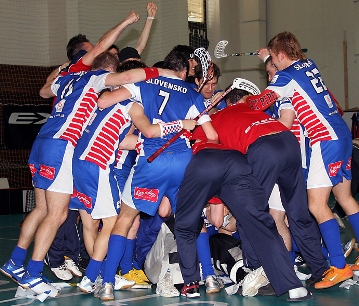 Slovakia won the Men´s 4 nations tournament in Hungary in November 2009 and defeated the higher ranked teams Austria and Poland and will surely be a tough team also in this tournament.
The top scorer from the C-division 2008 with 9+9 Stefan Majernik will cause trouble for the opponents also in the Qualifications and also Lukas Lajciak who scored 3+2 in the November 2009 tournament will be a dangerous weapon in the Slovakia offense.
Spain is also aiming to get a spot for the Final round in Finland. The team work is the greatest strength of the Spanish team.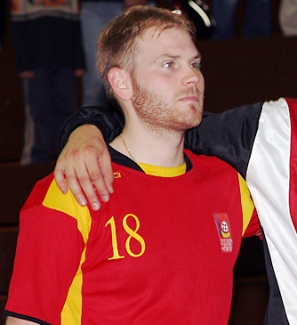 One of the experienced top players is the centre Enrique Gomez (pictured), who plays for Jona Uznach Flames in Switzerland. He played already in the WFC 2002 B-division and was the Spanish team´s top scorer in C-division 2008 with 9+6.
Another player from Switzerland to be noted is Christian Peduzzi Fernandez. The young defender from Grasshoppers Club Zürich played a good U19 WFC Qualification tournament were he collected 6+3.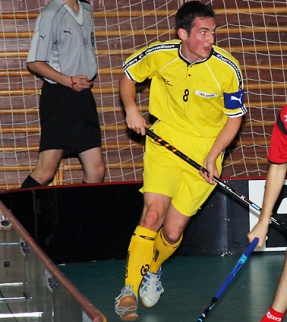 Liechtenstein´s national team was built in 2005 for the first international game against France in Schaan. In 2008 Liechtenstein participated for the first time in a WFC when the Men´s team played in the WFC 2008 C-division.
11 of the 14 players in the roster play in Liechtenstein´s club team UHC Schaan.
Liechtenstein´s top scorer from WFC C-division 2008 was the defender Rainer Büchel # 8 (pictured) with 4+2 and the best goalkeeper in Liechtenstein, Alexander Näscher # 1, are players to be noted from team Liechtenstein.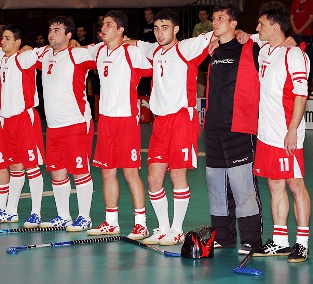 Georgia also played their first Men´s WFC in the C-division 2008. Team Georgia has not yet won an international match, the closest result was the 3-9 loss to Serbia in the C-division.
There are only four players in the Georgian team that played played already in the C-division 2008, but many have international experience from the EFC Qualifications with the SC Locomotive team.
Shota Amaglobeli is one of the players who scored points (3+1) already in the C-division 2008.