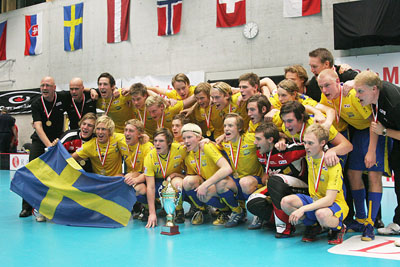 The Kirchberg arena was sold out as 1300 spectators were watching the two teams Czech Republic and Sweden play for the gold.
The favourite, team Sweden, got into an early 3-0 lead, first goal scored by Patrik Malmström and two goals by Kevin Lundgren. The Czechs also had scoring opportunities, one shot hit the post early in the period and in 12.23 Jiri Curney scored the first goal for the Czechs, 1-3 after the first period.
Soon it became clear, which team currently is the best U19 team in the world. Team Sweden was both physically and technically the better team tonight and was crowned as U19 WFC champion after an impressive 9-3 victory.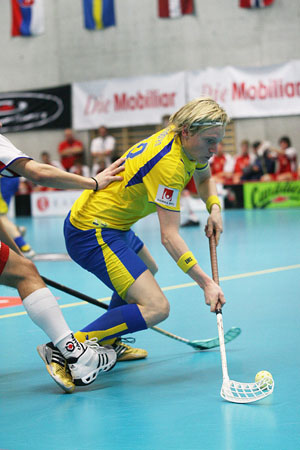 Patrik Malmström 3+1, Henrik Stenberg 1+3
Best player Czech Republic: Filip Heczko
Best player Sweden: Patrik Malmström
The Swedish coach, Jan Gustafsson, was a happy champion, and told that the team had worked hard for getting this far. Gustafsson also added that one of the things, which made the team so successful, was that all players had adapted the given play system so well.
According to the Czech coach Radomir Mrazek the Czechs were not that disappointed despite the loss today, since silver is the best result in Czech Republic´s U19 history and it proves that the Czech team has improved a lot (in the U19 WFC 2005 Czech Republic was 5th).