Both Sweden and Finland have won all their matches in the Men´s U19 championships and are leading their groups. Sweden had a quite easy 8-3 victory over Czech Republic; Finland on the other hand, had to work hard versus Switzerland. The Swiss team never let Finland into a more than one goal lead in front of their supporting home crowd until the middle of the last period. The final score was 5-3 to Finland. The Zuchwil arena was sold out when there was 900 spectators following the Fin-Sui match.
This will most likely mean that Switzerland will meet Sweden in the semi-final and Finland will meet the winner of tomorrow´s late and interesting match  (19:30 CET) Latvia-Czech Republic in the other semi-final. The semi-finals are played on Saturday the 10th.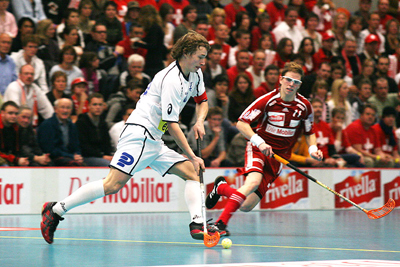 Team Finland played without the defender Henri Vanonen who injured his ankle and will miss the rest of the U19 WFC. The Finnish team applied for the right to replace the injured player and forward Juuso Heikkinen will replace Vanonen.
The 18 year old Heikkinen has already played 8 international U19-matches. Read more from the official U19 WFC webpage
The only team with two straight victories in the B-division is Denmark, who has won their matches versus Netherlands and Austria and is leading group C. In group D Germany and Estonia have three points each after playing 7-7 in today´s match.