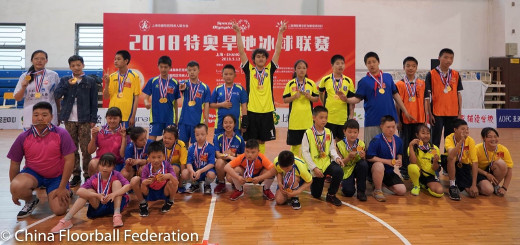 A few weeks back, a Special Olympics Floorball League tournament was held in Shanghai China.
On May 12, the "2018 Special Olympics Floorball League" was held at the Sports Hall of Shanghai University of Science and Technology. It was organized by Special Olympics East Asia, Shanghai Paralympic Committee of Putuo District and Shanghai Qingxin Youth Development Center together.
14 floorball teams from 9 special schools of Eastern China gave the audience great games. As the name Special Olympics Floorball League implies, the tournament was for players with intellectual disabilities. The Sports Hall was warmed with the hard work of the players, volunteers, referees and coaches and the great company of their parents and the community of caring people.
The league was sponsored by Laureus World Sports Awards and co-organized by Shanghai Pudong Special School and Shanghai Putuo Qixing Special School. The league was also with sports knowledge guidance from the Shanghai Paralympic Sports Training Center and the Asian and Oceanian Floorball Confederation. It had been strongly supported by the Floorball Society of Shanghai University of Science and Technology and the "Be Together" Student Welfare Organization. Ms. Feng Meisun, President of Special Olympics East Asia, Mr. Jason Choo, representative of Asian and Ociean Floorball Confederation, representatives of Shanghai Paralympic Committee and headmasters of Special Schools attended the event.