During the Yearly General Assembly on November 17th NeFUB was unanimously elected as the 75th full member of the Dutch Olympic Committee.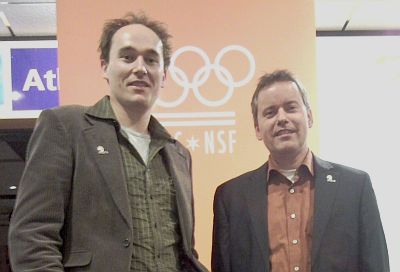 The newly elected NeFUB president Mr. Henri Otjens is very pleased:
"November 2009 marks the 10th anniversary of Dutch Floorball and this is the perfect gift. Membership of the NOC will greatly help in the development of Dutch floorball, but it also requires us to make big steps in our development. NeFUB will probably need all of 2010 to further build her organization to fulfill all demands. Luckily, there are many professionals at NOC NSF that can help us reach this goal."
Proud new NeFUB President Mr. Henri Otjens and NeFUB Secretary General
Mr. Hans Botman after the General Assembly.
Source & Picture: Netherlands Floorball Association