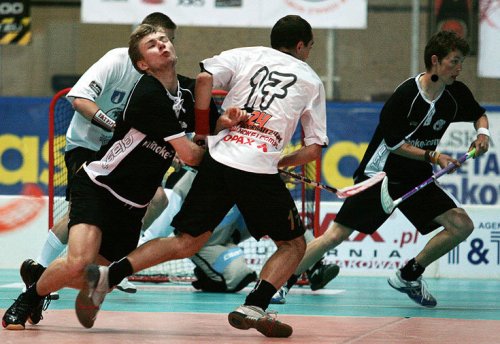 The season 2008-2009 ended in the Polish league. The Men´s champion in Poland is KS Szarotka Nowy Targ and Women´s champion Energa Olimpia Osowa Gdansk.
KS Szarotka is a team that already has won ten gold medals in a row. The team defeated the present and last year´s silver medallist in two matches – KS 3XM Gorale Nowy Targ with 9-5 and 7-4. In the fight for the bronze medal, UKS Absolwent Siedlec, turned out to be the better team after defeating TKKF Pioneer Tychy in the decisive match with 11-7.
Energa Olimpia Osowa Gdansk became the best team in the women´s category after winning the third and decisive final match against UKS Absolwent Siedlec with one goal 6-5. KS Gorce Nowy Targ won UKS Multi 75 Killers Krakow in the bronze match.
Final Standings 2008/2009:

Men´s League
KS SZAROTKA NOWY TARG
KS X3M GORALE NOWY TARG
UKS ABSOLWENT SIEDLEC
TKKF PIONIER TYCHY
MUKS ZIELONKA
AZS POLITECHNIKA WROCŁAW
Women´s League
ENERGA OLIMPIA OSOWA GDANSK
UKS ABSOLWENT SIEDLEC
KS GORCE NOWY TARG
UKS MULTI 75 KILLERS KRAKOW
UKS LUXOLAR GRODEK
Text: Ellka (floorball24)
Photo: Marcin Zapala (www.mzapala.com)