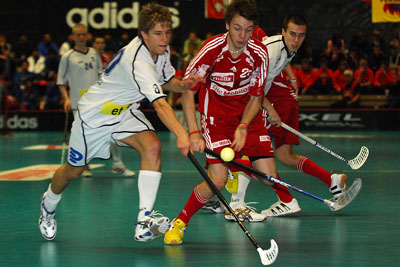 Finland won the WFC bronze in a game that did not lack of excitement and entertainment all through the match. The final score was 3-2 for Finland.
Both Finland and Switzerland showed good movement on the field and the tough lost versus Czech Republic did not seem to bother the Finnish team who had made some changes in the their line-up for today. The Swiss had a good chance in 13.57, but the shot hit the post. The only goal of the period was scored by Sami Saarinen, 1-0 lead for Finland.
The 2nd period was as tight as the first. Switzerland had an opportunity on power play, but no goal. Then when Finland played on power play, and did a severe mistake, Joel Friolet read the situation well and scored the equaliser for the Swiss. After the goal the Swiss gained the momentum and had good scoring opportunities, but still 1-1 into the last period.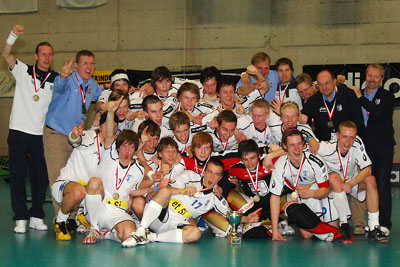 Special situations made the difference
It looked as if Finland would take it, as Juha Tikka scored two goals on power play in the last period, but then Christoph Meier executed a counter attack successfully and the game was all open again. As it was Finland´s turn to sit on the penalty bench, the Swiss got opportunities to equalise, but Tuomas Turunen managed to keep his goal clean and team Finland took home the bronze medal. There were 920 spectators following the match in Kirchberg.
The Finnish coach Lasse Eriksson and Finnish player Tyko Hellsten were very happy about the victory. Eriksson and Hellsten thought the game was a tough one and that they even were a bit lucky today. Both also gave credit to the Swiss team, for their good effort.
Best player Finland: Juha Tikka
Best player Switzerland: Thomas Fankhauser
Denmark promoted to the A-division
The B-division final was very thrilling, when Denmark (ranked 8th) and Germany (ranked 13th) played for the gold medal.
Germany, who made it to the semis after a drawing of lots, started strong in the Zuchwil arena and got to a 3-1, 4-2 and 6-4 lead, but Denmark came back into the game each time. In 54.57 the Danish team equalised to 6-6 and with only one minute left of the match Kenneth Danielsen scored the winning goal for Denmark. Denmark that was relegated to the B-division for 2007, will now get back to the A-division in 2009.
Best player Denmark: Kenneth Danielsen
Best player Germany: Martin Müller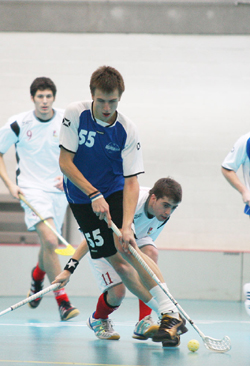 Estonia won the bronze medal in the B-division after a confident win over U19 newcomer Austria with 9-4. Estonia was also the bronze medallist in the 2005 U19 WFC.
Best player Estonia: Oskar Salm
Best player Austria: Peter Fiedler