WFC 2006 in Sweden
Distinguished guests and Floorball friends,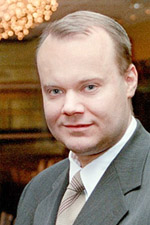 On behalf of the International Floorball Federation (IFF) I have the pleasure and honour to announce the World Floorball Championships for men in Sweden.
Today IFF consists of 37 member countries, all which are very active in developing our sport worldwide. We welcome our latest member, Mongolia, and wish them all the best in taking part in Floorball. Floorball is an ordinary member of GAISF, having applied for IOC recognition and we are aiming soonest possible to take part in multisport events such as the Universiade and the World Games.
Our sport is growing very rapidly worldwide, in particular in Asia where we have nine members presently and more eager to take part, and Floorball attracts the youth and the Internet generation as well as the spectators to a large extent. Because of this we have an agreement to take part in the World School-sports Championships in Floorball in 2007 in the Czech Republic.
This is the sixth edition of the men's WFC, and the first historic time for a WFC in Floorball being organized for the second time in the same country. The 1996 WFC in Sweden was a huge success, and our expectations on Sweden are high for 2006! I believe that the challenges are not only to fill the Globen Arena again, but also to raise the quality of the tournament as such, including the average rates of spectators in the venues for the group and playoff matches. We also see for this WFC a substantial raise in interest from the media in number of TV companies wishing to broadcast from the event, including many matches on Eurosport, which is important in the spreading of the sport internationally.
On Friday May 26th the IFF General Assembly takes place in Nacka. I would like to emphasise the fact that many important decisions are to be taken in order to improve our organization and raise the level of efficiency. We are to decide upon new statutes, and new juridical regulations in order to meet with the requirements of WADA and CAS and the Olympic movement in order to meet with our objective to be an Olympic Sport.
Looking forward to seeing you all and a thrilling tournament. The IFF conveys many thanks to the Swedish Floorball Federation in cooperation with the cities of Helsingborg, Malmö, Botkyrka, Solna and Stockholm for organizing the WFC for men in Sweden.
Yours sincerely,
Tomas Eriksson
IFF President