Chapel Floorball Club are celebrating winning the Northern League Title within the UK for a record sixth time when one of their two teams finished on top after all 15 regular season games had been played.
The Speedhoc Chapel team won the title with a record of 12 wins, 1 draw and 2 defeats which saw them overcome main rivals Aberdeen Oilers and Edinburgh Eagles. The top scorer within the League Speedhoc Chapel´s number 13, Jim Bridger. He scored 22 goals and gave 19 assists for 41 points in 12 games.
– This title means a lot to the club as the Speedhoc team contains over 90% British trained players. To finish above both Aberdeen and Edinburgh who consists mainly of non British players is a great achievement and it's an encouraging indication of how much the sport is developing at a local level. Chris Smith, a spokesman for the club, said.
– Chapel Floorball Club would like to thank Speedhoc for their sponsorship of the team and all others that have supported them during this successful season, Smith continued.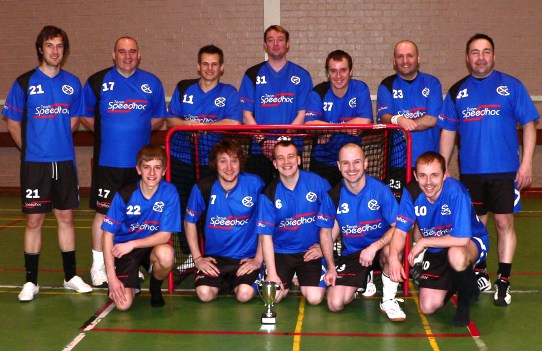 Source & Picture: Chris Smith, Chapel Floorball Club