31st January – 5th February 2017
ASB Arena
Wellington, New Zealand
Final Standings
| | | | |
| --- | --- | --- | --- |
| 1. | |  Japan | Qualified to WFC |
| 2. | |  Australia | Qualified to WFC |
| 3. | |  Singapore | Qualified to WFC |
| 4. | |  Thailand | Qualified to WFC |
| 5. | |  Republic of Korea | |
| 6 | |  New Zealand | |
| 7. | |  Malaysia | |
| 8. | |  China | |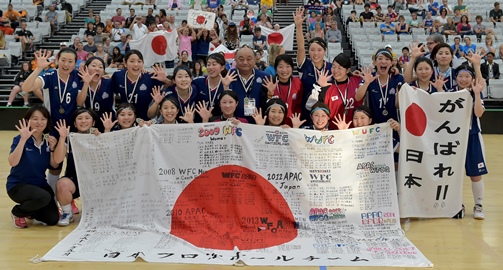 All-Star Team
Goalkeeper: Maria Hegarty (NZL)

Defender: Blaise Hodges (AUS)

Defender: Alexandra Staib (AUS)

Forward: Yui Goto (JPN)

Forward: Yejin Shim (KOR)

Forward: Jill Quek (SGP)
Match Schedule
Date
Time
Phase
Match
Score
31.01
09:59
Group B

6

-

2

31.01
12:59
Group B

5

-

3

31.01
15:57
Group A

1

-

6

31.01
19:28
Group A

13

-

0

01.02
09:59
Group B

2

-

3

01.02
12:57
Group A

26

-

0

01.02
15:57
Group A

3

-

2

01.02
18:57
Group B

4

-

3

02.02
10:00
Group A

2

-

21

02.02
12:57
Group B

7

-

2

02.02
15:57
Group B

0

-

8

02.02
18:57
Group A

2

-

0

03.02
15:59
Quarter-final 1

5

-

4

03.02
18:59
Quarter-final 2

7

-

1

04.02
09:58
5-8th M1

4

-

3 ps.

04.02
12:59
5-8th M2

11

-

0

04.02
15:56
Semi-final 1

2

-

1 ot.

04.02
18:57
Semi-final 2

3

-

2 ot.

05.02
09:30
7th place

13

-

1

05.02
12:13
5th place

2

-

3

05.02
14:58
3rd place

6

-

3

05.02
17:59
Final

0

-

4
Group A
Standings
| Team | M | W | T | L | GF-GA | Points |
| --- | --- | --- | --- | --- | --- | --- |
| AUS W | 3 | 3 | 0 | 0 | 34-1 | 6 |
| THA W | 3 | 2 | 0 | 1 | 25-10 | 4 |
| NZL W | 3 | 1 | 0 | 2 | 15-5 | 2 |
| CHN W | 3 | 0 | 0 | 3 | 2-60 | 0 |
Group B
Standings
| Team | M | W | T | L | GF-GA | Points |
| --- | --- | --- | --- | --- | --- | --- |
| JPN W | 3 | 3 | 0 | 0 | 16-6 | 6 |
| SGP W | 3 | 2 | 0 | 1 | 15-6 | 4 |
| KOR W | 3 | 1 | 0 | 2 | 9-15 | 2 |
| MAS W | 3 | 0 | 0 | 3 | 5-18 | 0 |
Scoring Leaders Statistics
Goalkeeper Statistics
A total of 31 teams registered for the 11th Women´s World Floorball Championships 2017 – a new record. Four countries will make their debut at this level – Ukraine, Iran*, Thailand & China. For Iran and China this will be the first-ever international appearance for their women's team, while Thailand will be hoping to follow up from their strong international start at the 2015 SEA Games, where they finished second to Singapore. Korea are returning to compete at this level after a break of several years.
*Iran withdrawn due to visa issues.
Qualification System
All teams, apart from the host country (Slovakia), will have to qualify for the Final Round via the qualifications. In Asia-Oceania, 8 teams will compete for four qualification spots.
In AOFC, the teams are divided into two groups and the teams will play once against each of the other teams in their group. Based on the results from these group matches the teams will progress to the play-off rounds, as follows:
– 1st in Group A & Group B progress to the semifinals and qualify directly to the WFC Final round
– 2nd in each group play a quarter final against the 3rd placed team from the other group. The winners of this progress to the semifinals and qualify directly to the WFC Final round
– The losers of the quarter-finals will play for 5th-8th place together with the 4th placed teams from the groups
Other regional qualifications will be held in the Americas and Europe (Italy & Spain). From Americas 1 team will qualify, in Europe 10 teams will qualify and from Asia-Oceania, four teams will qualify.
Final Round
Slovakia will for the first time host an adult World Championship final round event. They are experienced IFF event organisers, having hosted the Women´s U19 WFC, WFC Qualifications for both men & women, and several EuroFloorball Cup events.
WFC 2017 will be played in Bratislava in two arenas – Arena Ondreja Nepelu & Hant Arena, which are located 500m from each other in central Bratislava. The main arena, renovated in 2011, can seat 10,000 spectators and is used mainly for ice hockey and concerts.