In the top four floorball nations Czech Republic, Finland, Sweden and Switzerland the Women's top leagues kick off this week.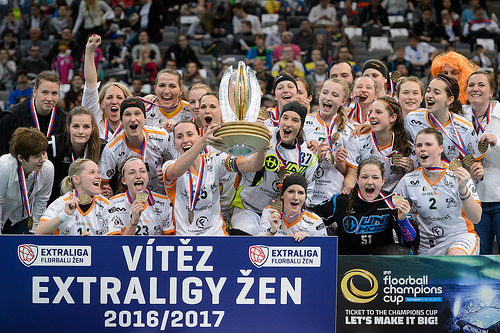 Herbadent won the Czech Superfinal in the spring. Photo: Martin Flousek / Cesky Florbal Flickr
Czech Republic – Extraliga Zen
The first matches of the Czech Women's top league, Extraliga Zen will be played this Friday.
15.09 18:00 Ostrava – Panthers Praha
15.09 19:00 Vinohrady – Bohemians
15.09 19:00 Florbal Židenice – Vítkovice
15.09 19:00 Olomouc – FK Jižní Město
15.09 19:30 Chodov – FBK Jičín
All in all, 12 teams will play in the women's league and 8 teams will make it to the play-offs whereas the 4 teams left below the play-off-line will face play-outs.
More at www.ceskyflorbal.cz/extraliga-zeny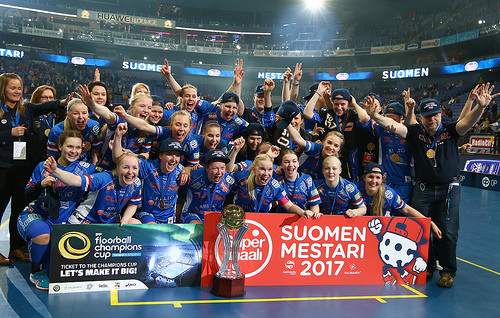 Classic didn´t loose a single match during the whole regular season and also won the Finnish Superfinal. Photo: Salibandyliiga Flickr

Finland – Salibandyliiga
In the Finnish top league, Salibandyliiga, the first matches will all be played on Saturday.
16.9. 16.00 ÅIF – Koovee
16.9. 16.00 SSRA – EräViikingit
16.9. 16.00 O2-Jyväskylä – NST
16.9. 16.00 TPS – PSS
16.9. 17.00 Classic – SB-Pro
All 10 teams in the women's Salibandyliiga will begin their regular season on Saturday. The league is only 10 teams this season as two former league teams disbanded and first division teams were unwilling to take their place in the league.
More at www.salibandy.fi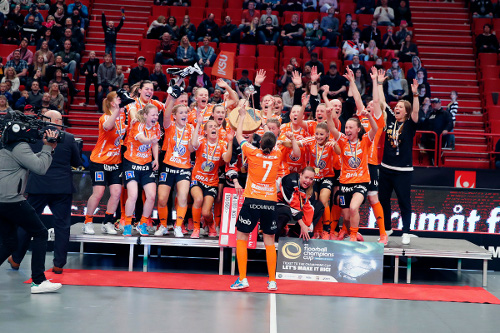 IKSU had a historical season and became Swedish Champions in the spring. Photo: Per Wiklund

Sweden – SSL
In the Swedish top league, SSL, the first round in the Women's is played this weekend. IKSU and Kais Mora IF will also play one of their fifth-round-match already on the 15th of September due to the Champions Cup participation.
15.09 18:30 IKSU – Kais Mora IF
16.09 14:00 IK Sirius FBC – Pixbo Wallenstam IBK
17.09 13:30 Jönköpings IK – Telge SIBK
17.09 14:00 IBK Dalen – Endre IF
17.09 14:00 Warberg IC – IKSU
17.09 15:00 Malmö FBC – Västerås Rönnby
17.09 16:00 IBK Linköping IBK – KAIS Mora IF
17.09 17:00 Karlstad IBF – Täby FC IBK
All 14 teams of the women's SSL will start their season this weekend. Out of the 14 teams, the top eight will continue to play-offs, the season ends for the next four teams and the last two teams will relegate to the lower division.
More at www.innebandy.se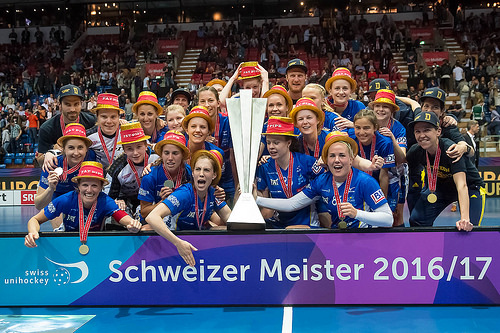 UHC Dietlikon are the reigning Swiss Champions. Photo: Fabian Trees / Swiss Unihockey Flickr

Switzerland – NLA
The first round of the Swiss top league, NLA, will be played on Saturday.
16.09 15:00 piranha chur – Waldkirch-St. Gallen
16.09 16:00 UH Red Lions Frauenfeld – UHC Dietlikon
16.09 19:00 Wizards Bern Burgdorf – R.A. Rychenberg Winterthur
16.09 20:00 Unihockey Berner Oberland – Aergera Giffers
16.09 20:00 Skorpion Emmental Zollbrück – Zug United
All 10 league teams begin their season on the same day. Eight teams will make it to the play-offs, the other two teams will play in the play-outs.