The IFF together with the AOFC organised a competition in connection to The World Games 2017 for the AOFC countries. The goal was to activate the AOFC countries in regards of The World Games and to gain more visibility for floorball's next step.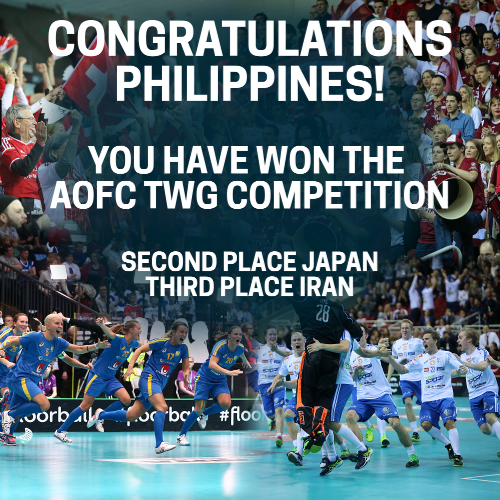 The International Floorball Federation (IFF) together with the Asia-Oceania Floorball Confederation (AOFC) created a social media competition in connection to The World Games 2017 in Wroclaw, in order to raise awareness for the World Games in the region. People participated in several ways, as by showing their support for their country by making public social media posts with the competition hashtags including their country specific hashtag, watching The World Games 2017 Floorball matches on the IFF Youtube and by using the IFF Events App. The follower statistics would be used in case there was an even result. The AOFC member association who had the most active fans won themselves a rink
– We took all three areas (public posts, mobile app, Youtube) into consideration when counting the points and we also looked into the quality of the social media posts, says IFF Information and Anti-Doping Coordinator Minna Nurminen.
The most active country, and the winner of the competition is Philippines! This means that the Philippines Floorball Association have won themselves a brand new floorball rink. Japan came second and won two goalie kits and Iran came third and won two toolbags with sticks and balls.
– The IFF wants to thank all participating countries for promoting floorball's next step. We are happy to say that the competition was a success for our sport and helped us to be more visible in regards of The World Games, says the IFF Secretary General John Liljelund.
You can read more about the competition here.