The Norwegian Superfinal will be played on Sunday 9th of April at Ekeberghallen in Oslo. Women's final starts at 14:00 and Men's final at 17:00.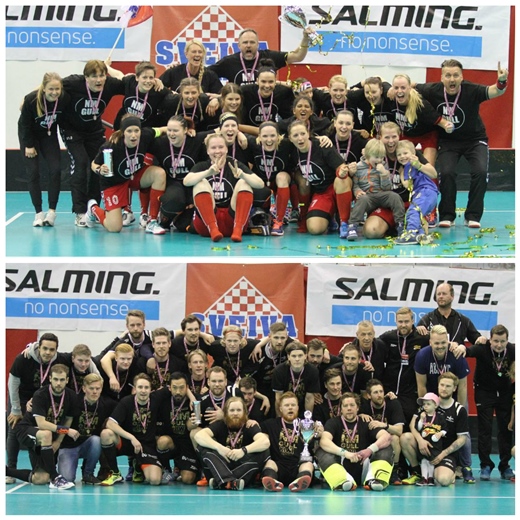 Last season´s winners Sveiva and Slevik
Men´s Superfinal
Slevik and Greåker battle for the title in the Norwegian Men's Superfinal. Both teams had a good regular season as they both had 55 points. Slevik took the first place due to their better goal difference. In the quarterfinals both teams had ups and downs and Greåker even had to secure their place in the semis in the decisive fifth match. In the semi-finals Slevik faced Tunet and Greåker faced IK Akerselva. This time Greåker secured their spot in the final with three wins in a row whereas Slevik struggled. Slevik won the decisive fifth match 4-2 and are once again playing in the Superfinal.
History
Slevik is the multi-champion in Norway. They first won the title during season 2011-12 and have been the champions since then. In the last Superfinal Slevik also played against Greåker and dominated the match by scoring 12 goals. The final score was 12-4. During the regular season the teams faced each other twice. First time Greåker took a tight 5-4 victory but in the second match Slevik was stronger with numbers 10-4.
Women´s Superfinal
There will be a new champion in the Norwegian Women's league. Last year's silver medallists Sagene were able to defeat the reigning champions Sveiva in the semi-finals. Even though the semi-final pair was even, the fifth and decisive match was won by Sagene 4-0. Regular season winner Tunet also made their way to the Superfinal. They didn't have as much trouble as Sagene as they won three matches in a row against their opponent Grei.
History
Sagene was seen in the Superfinal last year, but they lost to Sveiva 5-2. Sagene and Tunet played against each other two times during the regular season and both matches were quite even. Tunet won the first match 3-2 whereas Sagene won the second match 5-4. Neither of the teams have won the title before.
Source: http://bandyforbundet.no