Estonia and Germany both took strong wins during the last day of WFCQ 2017 EUR 3. Germany ensured their place in the WFC 2017 in Bratislava, Slovakia.

Estonia and Austria played in the morning match here in Celano. With less than four minutes on the clock, Estonia was already in a 2-0 lead. When the first period ended they had succeeded in increasing their lead to 3-0 with a power play goal. In the second period, Kati Kutisaar was Estonia´s hero. She scored all their goals and took her team to a 6-0 lead. Austria was given two power plays in the second period, but they didn´t succeed, whereas Estonia was able to create dangerous scoring situations even when playing shorthanded. Estonia kept controlling the game during the third period and their powder was dry. In the end they won the match 13-0, which gives them a good +10 goal difference.
Best players:
EST: #16 Reti Vaart
AUT: #21 Karin Schmiderer
Match summary here.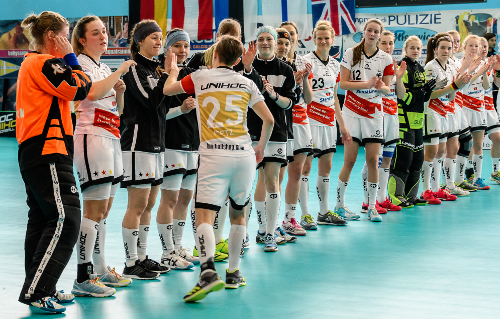 Germany needed a win against Netherlands in order to ensure their place in the final round. They weren´t kidding around as in less than 10 minutes they had already scored 3 goals. Even though they had more scoring chances, no more goals were seen in the first period. The second period was also mostly controlled by Germany. They had assured a 7-0 lead halfway of the match. Netherlands scored their first and only goal of the match when German defender made a poor pass which ended on the Dutch player Janiek Rikkert´s blade. She shot the ball to the top corner and decreased the score to 1-7. The Dutch also had two chances to score on power play in the last period, but were unsuccessful. Germany won the match 9-1 and qualified for the final round.
Best players:
GER: #15 Alena Holst
NED: #20 Susanne Spijkerman
Match summary here.