An IFF Floorball Development Seminar was held in the Philippines a few weeks ago. The seminar was organised by the Philippines Floorball Association (PFA) and the IFF.
The PFA organised an IFF Floorball Development Seminar in Quezon City, in the Metro Manilla region, in the Philippines from the 20th to 22nd of May, as a part of their project to build new school teams in the country. The PFA had started a series of coaching and refereeing courses for interested PE teachers and floorball players in March and all the participants in these seminars were invited to participate in the IFF Seminar.
– The aim of the campaign has been to get new private and public schools to pick-up floorball and get the schools to establish clubs. Based on the discussions we have had with the seminar participants there might be some 6-8 schools who are planning to set-up a club in the near future. The PFA will support these schools with floorball materials, to get the activity going, says PFA President Mr. Ralph Ramos.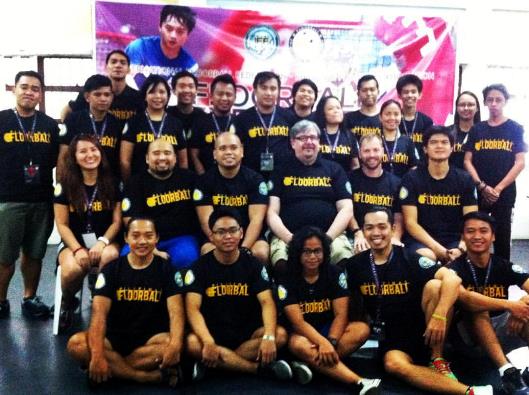 The seminar had around 30 participants mainly from the Philippines, but also a delegation from the newly founded China Floorball Federation and the City of Harbin, as the Vice Mayor Mr. Zhiang of Harbin participated in the seminar with a number of participants. The China Floorball Federation is preparing the application for IFF membership in the coming months.
A lot of focus was put on how to act as referees and how to build a referee organisation in a small floorball federation. As a result of the seminar the PFA will now found a referee committee and a 12 months plan was built during the seminar. The coaching sector focused on how to teach tactics to the players and enhancing the activities.
The seminar was a great success for the PFA, not only in the field of developing the coaching and referee sectors, but also as the Philippines Olympic Committee (POC) secretary general Mr. Steve Hontiveros visited the seminar unannounced. Mr Hontiveros was very pleased with the activities of the PFA and urged them to develop and spread the sport, in order to make it easier for POC to include Floorball on the South-East Asian Games organised in the Philippines in 2019.
More information: http://floorball.ph/ & www.facebook.com/PHI.Floorball/