From the 21st of December to the 8th of January a team of eleven Swiss floorball coaches and players went to Haiti. The mission was organized by the organization Floorball4all and the local partner Salvation-Army Haiti.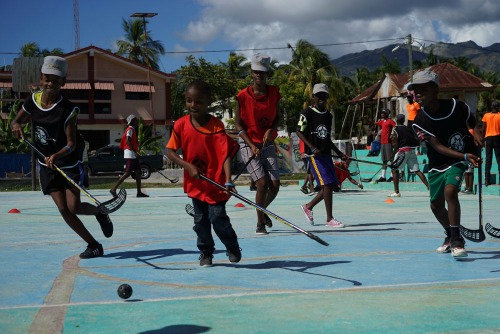 On the 23rd of December a training day with 30 trainers was held in the Olympic Sport Center of Haiti. The participants were gathered by Mr. Vermond Tuly (in the picture on the right), President of the Haitian Floorball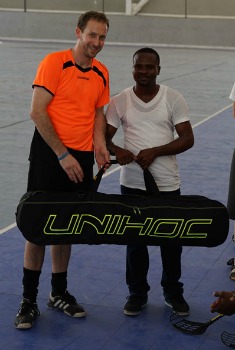 Federation (FHFL).  At the end of the lessons Floorball4all gave him a set with floorball sticks and balls sponsored by the IFF.
Floorball4all also carried out a five day course for new floorball coaches in Port-au-Prince. 28 sports leaders, journalists, teachers and youth workers participated.
-On last two days we invited the kids from Solino, one of the poorest districts of Haiti, to our training court. 60 kids had the possibility to play floorball for the first time. The trainings were lead by the new coaches. It was very touching to see the enthusiasm of the kids and the coaches. We could see that we already reached our main goal: to give a real meaningful leisure activity to kids and youth, says Beat Krähenbühl (in the picture on the left) from Floorball4all
They also organised a second coaching course in Aquin in the south of Haiti. Within four days they formed a group of 22 new floorball coaches from the area and organised the first training session for kids in the town center of Aquin.
All together Floorball4all started 15 new floorball projects, eight in and around Port-au-Prince and seven in the south of Haiti. Each region formed a committee to develop floorball in their area. Beat Krähenbühl has a clear vision of the next steps:
-Our plan is to go back to Haiti in the end of the year 2016, to teach the coaches, bring new floorball-material and to improve the floorball projects so that even more kids and youth can enjoy playing floorball.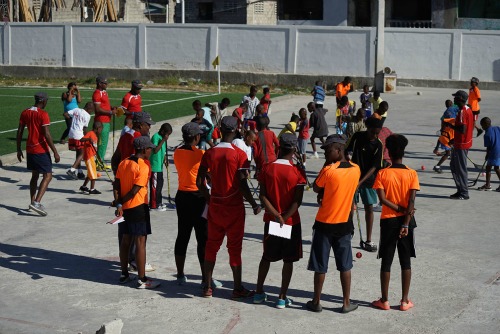 Floorball4all Webpage: www.floorball4all.ch/en/