The past weekend, in the Scottish town of Edinburgh, London Vikings FBC clinched their second in a row British National Championships title.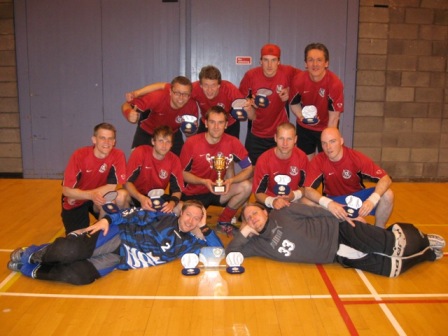 The Vikings had a easy ride to the final which was played against London Sharks, this is where things turned very exciting.
Vikings worked up a 2-0 lead during the first two periods of the game and were in good control of events on the pitch. However, two 2 minute penalties in beginning of the third changed the picture of the game. Sharks capitalised in both power plays and suddenly the score was 2-2. This was also the score at full time.
After some minor line adjustments going into the 2×10 minute sudden death, Vikings had four shots in the bar and one in the post, but not until 5 minutes into second overtime period, the deciding third goal for Vikings came which meant a final score of 3-2.
This was a very tight and well played floorball game and we dare say, one of the better matches ever played on British soil.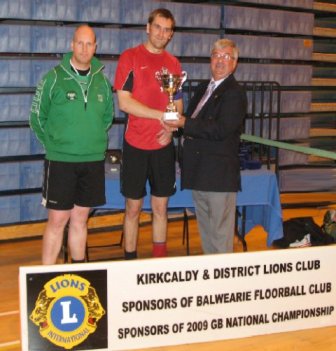 Vikings captain Johan Nordin comments:
– The fact that we managed to pull this win off is amazing. We went to Scotland without three of our ordinary players due to nasty long term injuries and another six players unable to attend for personal reasons. The squad showed a tremendous strength, morale and team spirit all the way to the gold. Regardless of many ordinary people missing, in our mind there were never any doubts – we were going to bring the trophy back to London – and we did!
– I would like to congratulate Veli-Matti for the top points scorer. I would also like to thank the organisers Great Britain Northern League Floorball and the main sponsor Kirkildy & District Lions Club who made this tournament a positive memory for life for all of us.
About GBFF National Championship 2009
This tournament is to determine the best floorball club in Britain. The winner is also then eligible to enter the European Cup Qualifications round. The British National Championships in Floorball 2009 was organised by the Northern Floorball League.  The event was held at Meadowbank Stadium in Edinburgh on the 2nd and 3rd of May 2009. The format involved 6 top Scottish clubs from Scotland as well as the top 6 clubs from England.
From Scotland
Aberdeen Oilers, Balwearie Lightning, Balwearie Thunder, Dundee Northern Lights, Edinburgh, Glenrothes Grrrowl.
From England
London Vikings, Bournemouth Bullets, Brighton Rock, Oxford University, Warwick Lightning, London Sharks.
About London Vikings FBC
London Vikings was formed in the mid 90´s and has since 2000 taken part in tournaments arranged by Great Britain Floorball Federation. The club is reigning British Champions with a strong track record having won the title numerous times in the past. The club also finished first in South Central floorball league 08/09 with an unbeated record for the whole season. More information about the team is available on www.london-vikings.co.uk
Source and pictures: London Vikings Johan Nordin