SV Wiler-Ersigen in the Men´s semi-final
A lot of spectators had gathered to watch the decisive A group match in the Eulachhallen between SV Wiler-Ersigen and Tatran Stresovice.
Tatran played an excellent first period and their fast counter attacks resulted in three goals, two of them scored by Milan Fridrich.
Wiler-Ersigen started to get their own game going in the second period. First Tobias Zeller and then Lassi Vänttinen, with a long distance shot, succeeded in reducing the Tatran lead to 3-2.
The strong running game of the teams continued in the final period, but as Tatran did not manage to break Wiler-Ersigen´s man cover defence, the Swiss team took control of the game. Within one minute, 44.35 – 45.33, Wiler-Ersigen scored three goals and was suddenly in a 5-3 lead. The first forward line of Wiler-Ersigen, especially Lassi Vänttinen (3+0), was again very effective.
Tatran reduced the lead two times, and also tried to tie the game without the goalkeeper, but no success, and Wiler-Ersigen will play against SSV in tomorrow´s semi-final starting at 13:30 CET.
SSV Helsinki winner of the Men´s group B
SSV ang Warberg IC-85 played for the 1st place in group B in a spectator-friendly match. Warberg was leading with 1-0, 2-1 and 3-2, but SSV always succeeded in equalising and could secure the 1st place in the group with a 7-4 win.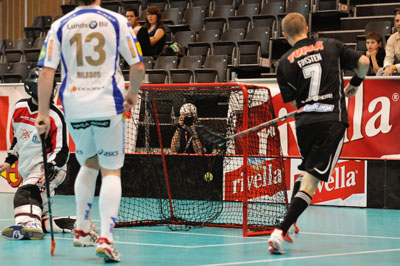 Both SSV and Warberg presented good passing play and some many goals were a result of really nice passing combinations. Especially SSV´s first forward line moved the ball nicely. Tero Tiitu, who was elected best player of SSV, found the goal three times with his effective shot. Juha Kivilehto also played well today, assisting to two of Tiitu´s goals.
Both SSV and Warberg played with three forward lines, but some of Warberg ´s first line players like the two most effective players from yesterday, Magnus Svensson and Martin Emanuelsson together with Mathias Larsson, Jim Canerstam and the first goalie Peter Sjögren did not enter the field today.
SSV´s victory means that there will be one new team in the Men´s EFC final this year as last year´s finalists, AIK and Waberg, will meet already in the semi-final tomorrow at 19:30
SSV will play their semi-final at 13:30 against Wiler or Tatran.
Picture: Wilfried Hinz
Balrog B/S IK and IKSU made it to the semi-finals
Balrog continued to play brilliant Floorball and did not get SC Classic much of a chance in the decisive Women´s B group match. The final numbers were 6-2 to Balrog.
As in the previous Balrog matches Emelie Lindström (2+2) and Hermine Dahlerus (2+0) were the most effective players on the field.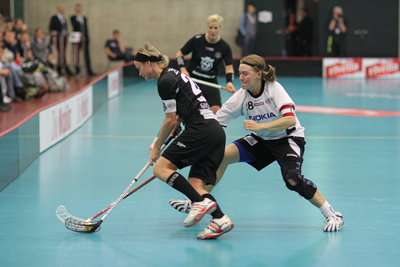 Balrog´s passing play was of better quality than Classic´s today. Especially in the beginning of the match, Classic made a lot of crucial passing mistakes.
The poor passing game also made Classic´s openings difficult, whereas Balrog presented fast and accurate game openings.
Classic´s play improved in the third period, but not enough to threaten Balrog´s place in the semi-finals. Both Swedish teams, Balrog and IKSU, will play in the semi-finals tomorrow. Balrog will play against Dekanka at 19:00 CET and IKSU will play versus the reigning champion, UHC Dietlikon, at 16:30.
Photos: Wilfried Hinz
Dekanka in the Women´s EFC semi-final
HFK Dekanka secured the place in the semi-finals by winning the third period against Holmlia SK with 4-0.HFK
The match was very tight for two periods as both teams played very strict defensively. Dekanka possessed the ball whereas Holmlias´s relied more on counter attacks.
Klara Rozumova´s scored the first goal in 07.52 and this was the only note in the match protocol until Ayten Sezgin evened the score to 1-1 in 37.40.
In the third period Dekanka pressured Holmlia, which paid off. Dekanka scored four goals and made their way to the semis with a 5-1 victory and will meet the winner of the group B tomorrow at 19:00 CET.
Tapanilan Erä will play for 5th place
As in the previous matches versus Warberg IC-85 and SSV, Sarpsborg IBK, managed to challenge their opponent for 40 minutes, as the score was 3-3 when going into the last period.
Jani Helenius took Tapanilan Erä into a two goal lead in 48.11 Frustration started to show in the Sarpsborg team, which led to three 2 minutes penalties.
Erä won the third period convincingly with 6-0 and the match with 9-3 and will play for the fifth place tomorrow at 16:00 CET.