Distinguished guests and Floorball friends,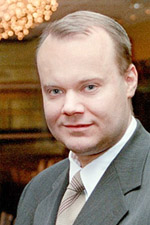 On behalf of the International Floorball Federation (IFF) I have the pleasure and honour to announce the EuroFloorball Cup finals 2008 in Winterthur in Switzerland. This is the sixteenth edition organized, and since the change of the international calendar, the second finals in 2008.
IFF has, in good co-operation with its member associations, changed the organization and the playing system of the EFC. For the second time, the second ranked teams in the top ranked nations are able to qualify to the EFC final, together with two regional qualifications, in east and west, and together we mounted as many as 43 registered teams in the EFC, which is very impressing!
On the international level the "family" is constantly growing, and we now have as many as 47 member countries in IFF, and growth is vital in order to meet with all Olympic criteria and requirements.
IFF is continuing the work in the three defined fields, that is within Development, Marketing and Politics, but has also parallel to that important work, started the redefining of the IFF Philosophy and our "raison d'être, Floorball". Since the growth of Floorball has been very rapid and organic in the first decades of IFF existence, the need to structure and find and generic growth is needed to secure the continuation of the success story. The work is headed by the ExCo of IFF, and is to be put forth to the upcoming General Assembly in Prague in December 2008 for approval.
The Swiss Floorball Association, in co-operation with, the city of Winterthur, organizes the EFC. IFF is very pleased with the SUHV as a good organizer, and with top officials and good management. On a number of occasions we have seen top events being organized in Switzerland, and the level has always been high.
The IFF conveys many thanks to the Swiss Floorball Association in cooperation with the city of Winterthur for organizing the EuroFloorball Cup finals 2008.
Looking forward to seeing you all and a thrilling tournament,
Yours sincerely,
Tomas Eriksson
IFF President