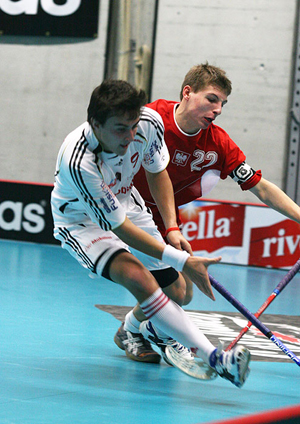 The most exciting match of today was the late match Latvia-Czech Republic that decided the last semi-final couple and the team that will meet Finland tomorrow.
Czech Republic started the match stronger and led the match 3-1 after the first period. The second period started as the first, the Czech scored first after which Latvia made their second. The match was 4-2 to Czech Republic after two periods. In the third period it looked as if the match was settled when the Czechs scored three goals in the row, but then it was Latvia´s turn to score four fast goals. When the Czechs made one more and the Latvians missed a penalty shot, the final result was 8-6 to Czech Republic.
In Switzerland´s last match versus Poland the ball stayed mainly on the Polish side of the field, but team Poland defended well in the beginning and had some fast counter attacks. The Polish were however not able to stop the stronger team Switzerland when they got their game going. The final score was
13-1 to Switzerland
In the earlier matches the leading teams Finland and Sweden outplayed their opponents when Finland defeated Norway 11-2 and Sweden Slovakia 20-0.
Tomorrow´s semi-finals:
| | |
| --- | --- |
| A-division | B-division |
| Sweden-Switzerland 17:00 CET | Denmark-Estonia 17:00 CET |
| Finland-Czech Republic 20:00 CET | Germany-Austria 20:00 CET |