Geflor continues to be one of IFF's material partner in the field of the official certified floorings in the IFF events. The new contract between IFF and Gerflor lasts for a period of five years, until December 31st, 2010.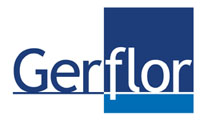 IFF and Gerflor will continue to work together for the development and spreading of Floorball internationally. Gerflor Company has acknowledged experience and a sound reputation in floors coverings, in particular in the domain of sports' flooring and the Gerflor flooring has proven to be excellent for the use of Floorball.
For the Senior World Championships (2006-2010) Gerflor undertakes to deliver one new flooring to IFF. In addition Gerflor provides one donation court, which will be used as the primary playing field in all other IFF competitions and as the second flooring during Senior World Championships (2006-2010).
Mr. Pierre Lienhard from Gerflor is convinced that IFF and Gerflor will build a strong and successful partnership, regarding competitions and day-to-day projects.
IFF's Secretary General Mr. Liljelund feels that this agreement is a very important step in IFF's strive to reach a status where all IFF competitions have the same look and feel – when it comes to flooring, Floorball material and apparels.