The top transfer of this week is Siti Nurhaliza Khairul Anuar from Singapore, who is transferring to the reigning Czech champion 1. SC Vitkovice. 
Siti Nurhaliza Khairul Anuar is transferring to 1. SC Vitkovice from NUS Titans FC. Her transfer was the most notable topic on floorball media, since Vitkovice announced it last Friday. Siti was noticed by the team coach Jiří Velecký at Czech Open where she played with Singapore's national team. One of the strengths of Siti is that she is shooting right and that makes her a good replacement for Justyna Krzywak, who left Vitkovice for study reasons.
This year will offer many new chances for the 20-year-old player. Siti will play in her first Women's World Floorball Championships in Neuchâtel this December. Earlier this year, she played in the Women's WFC Qualifications, in which she gathered 8 points (5+3). Siti has also international experience from the 2018 Women's Asia Oceania Cup that Singapore won.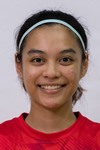 Siti Nurhaliza Khairul Anuar* (SGP) Defender – Transferring to 1. SC Vitkovice (CZE) from NUS Titans FC (SGP)
International success:
WUFC: 2018
WFCQ: 2019
International tournament: 2019
Asia Oceania Cup: 2018
* = not completed