Since 2012, the International Floorball Federation has cooperated with the Special Olympics and they have worked together to promote the sport. 
Almost six years ago, the IFF and Special Olympics (SO) signed a partnership that both parties have been happy with.
– It has been an absolute pleasure working together with Special Olympics. With their help we have proved that floorball truly is a sport for all. It is also delighting to see the joy on the faces of the Special Olympic athletes when they play showcase matches during the WFCs in the big arenas in front of big crowds, says John Liljelund the IFF Secretary General.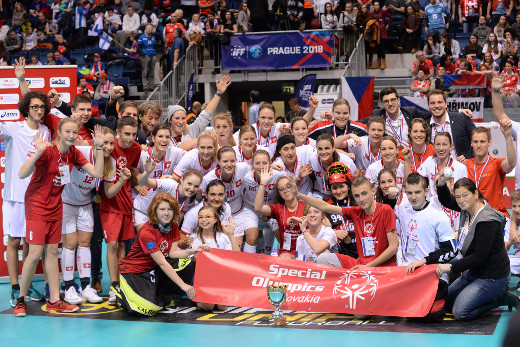 During the past year, Special Olympics have invested 100 000 euro in seminars, workshops, schools and equipment thanks to the donations from EU Erasmus project in 2017/18. They also pushed hard to get floorball involved in more SO programs in Europe and by the end of 2017, 28 countries in Europe were offering floorball. All in all, floorball is offered by 42 nations worldwide and the target is to have 80-90 countries by 2021.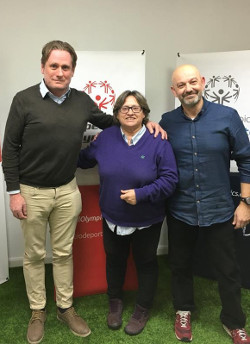 In March 2018 SO held a meeting in Madrid, Spain where they wrapped upped the past year's activities. SO Spain's Cuca Delgado and Spanish Unihockey and Floorball Association's Secretary General Carlos Lopez met with the SO Floorball advisor Steen Houman. The meeting will kick off the cooperation between SO Spain and Spanish Unihockey and Floorball Association in order to promote the sport in Spain.
– For both organisations the key to success is to help each other to promote floorball and to help grow floorball on a global scale. The meeting in Madrid is a good example on how both organisations can work together and achieve common goals. Hopefully we will see floorball grow, says Houman.
Facts:
Special Olympics
172 nations
Almost 5.000.000 athletes
Arrange both Summer and Winter World Games
Special Olympics is the organization for people with intellectual disabilities
Floorball is offered at 42 nations at the moment, aim 80-90 nations by 2021