The Czech's Men's league has already begun and the top leagues in the other top four floorball nations are already knocking on the door.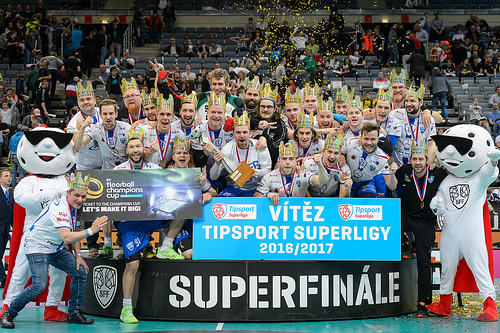 Florbal Chodov are the reigning Czech Champions for the second time in a row. Photo: Cesky Florbal
Czech Republic – Tipsport Superliga
In the Czech Men's top league, Tipsport Superliga, the first regular season match was played already 31st of August. In the upcoming weekend, there are mostly third-round matches.
16.9 17:00 FBC Ostrava – Technology Florbal MB
16.9 18:00 Tatran Stresovice – Florbal Usti
16.9 19:00 Panthers Otrokovice – 1. SC Vitkovice
17.9 15:00 FBC Liberec – Tatran Stresovice
17.9 15:00 FbS Bohemians – Florbal Chodov
17.9 17:00 Sokol Pardubice – FBC Ceska Lipa
17.9 17:00 Sparta Praha – TJ Znojmo
There are 14 teams in the Czech league this season whereas last season there were 12. This season 8 teams will make it to play-offs and the bottom 4 will face play-outs. The season will end for the top 2 of the bottom 6.
More at www.ceskyflorbal.cz/superliga-muzi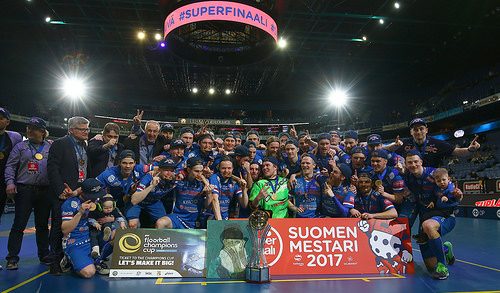 Classic are the reigning champions both in Men and Women. Photo: Salibandyliiga
Finland – Salibandyliiga
In the Finnish top league, Salibandyliiga, the first matches will be played on Sunday.
17.9. 16.00 EräViikingit – Happee
17.9. 17.00 SPV – Koovee
17.9. 17.00 Classic – LASB
17.9. 18.00 OLS – SalBa
17.9. 18.00 Steelers – TPS
14 teams will play in the Finnish league. Top 8 teams will make it to play-offs, next 3 team's seasons will end, and from the last 3 teams the last one will relegate straight to the second highest league whereas the other 2 teams will face play-outs.
More at www.salibandy.fi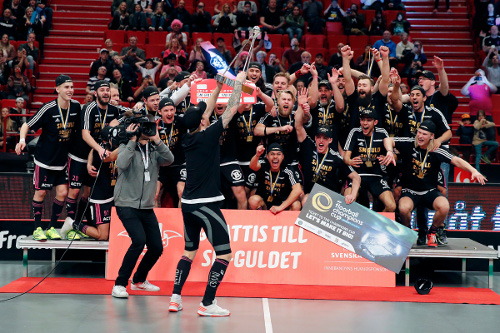 Falun reclaimed their title after a one-year break. They have now won 4 Swedish Superfinals within 5 seasons. Photo: Per Wiklund.
Sweden – SSL
The Swedish top league, SSL, is the last of the top leagues to start. The first round will be played next week.
22.9 20:00 Mullsjö AIS – Jönköpings IK
24.9 16:00 Team Thorengruppen SK – Storvreta IBK
24.9 16:00 Höllvikens IBF – Pixbo Wallenstam IBK
24.9 16:00 Linköping IBK – Växjö IBK
24.9 17:00 AIK IBF – IBK Dalen
24.9 18:10 IK Sirius IBK – IBF Falun
Out of the 14 men's teams in the SSL, the top 8 will continue to play-offs, the season ends for the next 4 teams and the last 2 teams will face play-outs.
More at www.innebandy.se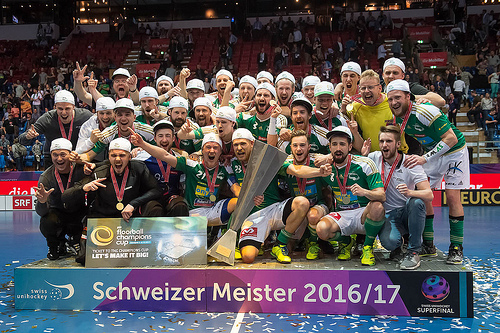 SV Wiler-Ersigen are multi-champions in Switzerland. They have won the title 11 times within the past 14 seasons. Photo: Fabian Trees / Swiss Unihockey
Switzerland – NLA
The first round of the Swiss top league, NLA, will be played this weekend.
15.9 19:30 SV Wiler-Ersigen – Floorball Köniz
15.9 20:00 UHC Uster – Grasshopper Club Zürich
16.9 18:00 Kloten-Bülach Jets – Tigers Langnau
16.9 19:00 UHC Thun – UHC Alligator Malans
16.9 19:00 Chur Unihockey – Waldkirch-St. Gallen
16.9 19:00 HC Rychenberg Winterthur – Zug United
Out of the 14 teams 8 will make it to play-offs whereas the bottom 4 will face play-outs.