The group stage finished today and we are ready for semi-finals and placement matches tomorrow.
DUNAI KROKODILOK – LONDON SHARKS
London Sharks had a chance of making the semi-finals with a win is this game, Dunai were looking to get their first points of the tournament, while Skala Melitopol were hanging on the result to see what the rest of the event would hold for them. Krokodilok played much better today than in their previous matches and will be disappointed that they couldn´t find this form before today. They held a 2 goal lead in the last period but in the space of 16 seconds Niko Salo brought the Sharks back equal. In the last minute Dunai went for all or nothing, taking off their goalkeeper. London missed a shot at the empty net and payed heavily for it. Dunai ran the ball up the court and a couple of short passes near the goal got them past the defence and the ball in the net. The 4-3 win put Dunai in the 5th place match and London went from the semi-finals to the 7th place match. The result also means Skala Melitopol, playing in their first IFF event, have a guaranteed spot in the semis.
Match statistics can be found here.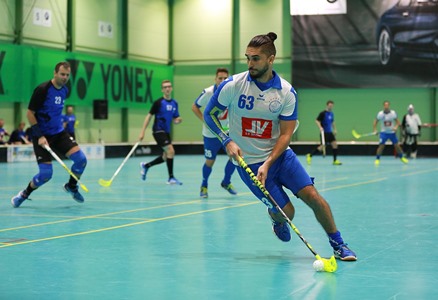 CUF LEGANES – UFC UTRECHT
In Group B, there were still 3 teams who had a chance of making semifinals at the start of the day. Two of them were Leganes & Utrecht. A draw would have been enough for Utrecht while Leganes needed the full two points to have a chance – a big ask against the strong Dutch team. Utrecht had a really tough game last night against Trencin and it seemed their legs were still hurting today as they were slow to get going. Leganes took advantage of that and kept the match even. Utrecht certainly didn´t bring their ´A´ game today and that may have been partly because they didn´t need to, but mainly it was because Leganes didn´t let them. The Spanish have a lot of small, fast guys who are the kind of players you really want on your team but don´t want to have to play against because they are just plain annoying. They are frustrating as opponents – they never stop running, never give up and no matter which you turn they are right there. And frustrate Utrecht they did. Utrecht finish undefeated with today´s 3-2 win and head to the semis, while Leganes will play for 5th.
Match statistics can be found here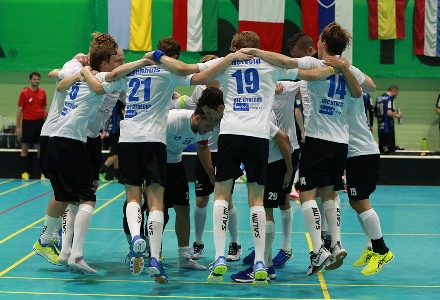 Tsunami Zahorska Bystrica – FBC SKALA MELITOPOL
The win by Dunai Krokodilok earlier in the day made this game a little simpler for both teams as they knew they had qualified for the semi-finals. The outcome of this game, though, would decide where they finished in the group and their eventual semi-final opponents. The Ukrainian team from Melitopol matched the Slovak champions for the first period but they were not as effective in finishing their attacking plays, especially with Peter Jukl in the Tsunami goal working very hard to keep them out. Tsunami´s first forward line proved too much for Skala – Martin Kubovic (4+1), Maros Koval (0+4) & Oliver Kubasky (2+0) combined for 6 of their 7 goals. Tsunami won 7-3 and will face their countrymen, FK AS Trencin in tomorrow´s semi-final. Skala will meet Utrecht.
Match statistics can be found here
FK AS TRENCIN – FLOORBALL L´AQUILA
Trencin were very disappointed after their loss to Utrecht last night but today´s opponent allowed them to play more freely and they enjoyed the chance to regain a positive feeling before tomorrow´s semi-finals. They still had to win to ensure that semi-final spot but the result was never really in doubt against the Italian team from L´Aquila. A 5-0 first period set up the game for them, and although the Italians put in an impressive effort, with only 9 court players they were always going to struggle against Trencin who won 10-3. L´Aquila will play London Sharks for 7th place, while Trencin will have a ´local´ derby against Tsunami from Bratislava to decide which Slovak team will be in the final.
Match statistics can be found here
For all the tournament results & statistics visit the EFCh event page
  IFF Social Media channels: