The national championships of United Kingdom were held in Birmingham, England 7-8.5.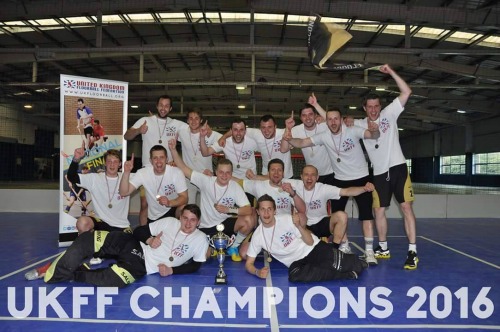 Eight teams made their way to the play-offs in United Kingdom. In the quarter-finals United Cities won against GW Sharks, Vikings won against Hastings, Vipers won against Rhinos and Peterborough won against Cambridge.
In the semi-finals United Cities took a clear win against Vikings and made their way into the final. Peterborough and Vipers had a more even battle for the place in the final, but in the end Peterborough was stronger with one goal.
In the bronze match Vikings won against Vipers 7-4. United Cities and Peterborough were battling for the gold. United Cities had won the title before in season 2012-13, whereas Peterborough had zero titles. Peterborough won against United Cities 6-4 and won their first title.
UKFF Facebook page & UKFF Webpage