Day 3 saw the last of the group games and therefore all of the final group placings are now decided. It also saw an historic first win for Thailand and a dramatic finish for Canada.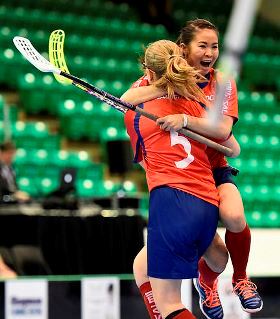 The opening match between Norway & Slovakia was a fast-paced physical encounter. With a place in A-division guaranteed for the winner and a relegation game for the loser there was plenty to be played for. The teams were never separated by more than one goal right up until the very final seconds of the game when Norway´s Celine Ripel stole the ball from the Slovak defender on the half-way line and ran away to score to an empty net, giving Norway a 7-5 victory. 
Poland & Latvia were playing the equivalent match in Group B. Poland got ahead early and held on to that lead throughout the match, winning 5-2. Poland & Norway will meet in the 5th Place match, while Slovakia and Latvia will play for not just 7th place but also a spot in A-division. The loser of the 7th place match will be relegated to B-division for the next WFC so we can expect a tough match up.
The top-4 teams played off to decide the group winners and confirm their semi-final opponents. No surprises, with both games going according to the rankings, although Czech Republic made Finland work especially hard for their 7-3 win, while Sweden easily accounted for Switzerland with 15-0.
In B-division, Hungary continued strongly on their path to the semi-finals, defeating USA 9-1, with Aniko Kelemen scoring 4+1. In the Asian derby, Japan & Thailand were both in search of their first-ever wins at this level. After starting really strongly in the event in their opening game against Canada, Japan´s energy has faded while Thailand have improved with each game. Thailand got the historic victory, 6-3.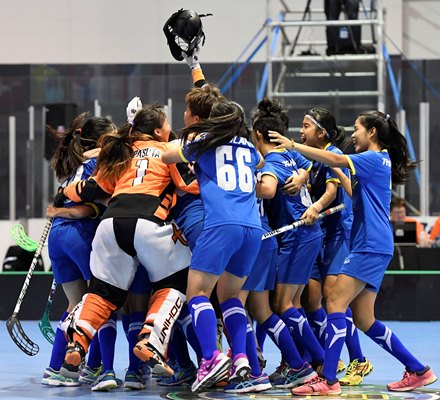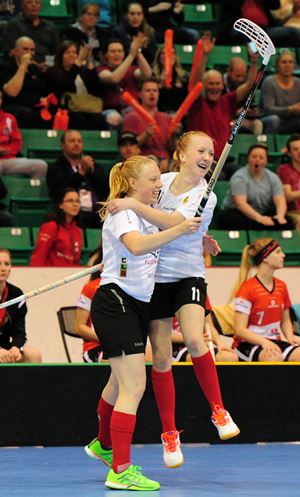 The final match of the day was one of ´old´ rivalry between Canada & Germany. These two teams were tough opponents to each other at the last Women´s U19 WFC in 2014 in Poland, and both were looking to top the group. A big local crowd was in attendance and it was the Canadian´s who got off to a flying start with two goals in 7 minutes. The Germans were stunned but came back into the match with two of their own before the first period had finished. Early in the final period Germany had taken the lead out to 2 goals, but Canada were not giving up and attacked continuously. The pressure paid off as they equalised and then went ahead with just over a minute left on the clock. With the final buzzer the team celebrated and the crowd were on their feet. The result gives the organisers a dream match-up in tomorrow´s semi-final, where Canada will now meet USA.
For full stories on all of the matches visit the official event website: www.floorball2016.ca

Photos from all of the matches can be found on IFF Flickr 

 Full replays of matches can be watched on either IFF YouTube Channel 1 or Channel 2
Photos: Joe Belanger / Aaron Bell / Greg Pinchin