The Swiss Superfinals were played last Saturday at the SWISS arena in Kloten. Grasshopper Club Zurich took a 10-8 win against Floorball Köniz in front of 7624 spectators. 5920 fans watched Piranha Chur win against UHC Dietlikon on penalty shots.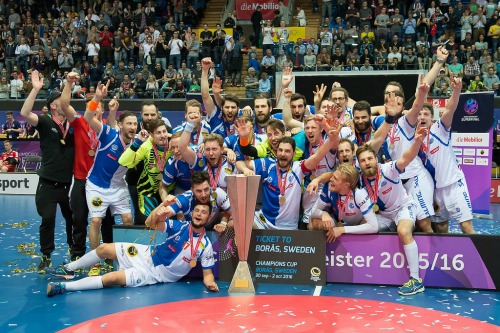 Men's Superfinal
The men´s regular season winner Floorball Köniz met Grasshopper Club Zurich in the Men's Superfinal. During the regular season the two teams played two even games that ended with a one goal difference. Neither of the teams had won the title before.
Floorball Köniz scored the first goal when only 24 seconds had been played. Only one minute later GC Zurich got a chance to score on power play, but were inefficient. After fourteen minutes, Köniz was already leading the match 4-1. But Zurich was able to decrease the score to 4-2 at the end of the first period.
The second period was dominated by Zurich. Within the 20 minutes, Zurich successfully shot towards the net five times whereas Köniz didn't thrive. Zurich was leading the match 7-4. The third period was even and both teams were scoring goals one after another. Köniz was only one goal away from Zurich, but Zurich sealed the deal by scoring when only ten seconds were left on the clock. Zurich won the match 10-8. Kim Nilsson (Zurich) and Jan Zaugg (Köniz) were chosen as the best players.
Statistics can be found here.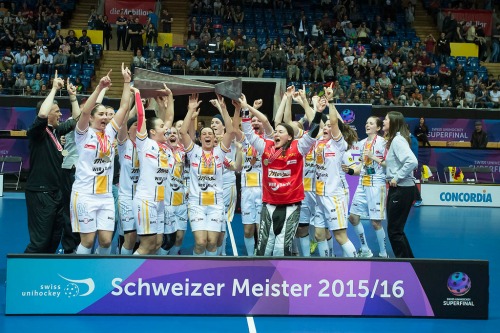 Women's Superfinal
In the women's final, the reigning champion Piranha Chur, met the regular season winner UHC Dietlikon. Chur has been victorious the last four seasons whereas Dietlikon's last title is from season 2008-2009. The two teams met three times during the regular season. Dietlikon was victorious twice and Chur once.
Only two goals were seen during the first period. Chur was the first to score but Dietlikon evened the score five minutes later. Dietlikon pulled ahead at 36:44, but otherwise the second period was quite uneventful.
At the start of the third period, the last season's silver medalist Dietlikon was already leading the match 3-1, but the next four goals belonged to Chur. With only two and a half minutes left Dietlikon evened the score to 4-4.
No goals were seen during overtime and thus the match went into penalty shots. Even the penalty shots went into sudden death as the players failed to score one after another. Chur's eighth shooter Katri Luomaniemi put the ball behind Dietlikon's goalkeeper Monika Schmid and thus Chur was celebrating winning the title for the fifth time in a row. Seraina Ulber (Chur) and Petra Weiss (Dietlikon) were chosen as the best players.
Statistics can be found here.
Photos: Swiss Unihockey Flickr, Fabian Trees www.imagepower.ch