The floorball season in Hungary is over and the National Championship winners are decided.
In the men's league, the regular season winner Phoenix Fireball met SZPK Komárom in the finals, after they both won against their semi-final opponents. Phoenix has been in the finals four years in a row. SZPK Komarom knocked out the reigning champions, Dunai Krokodilok SE in the semis with match wins 2-1.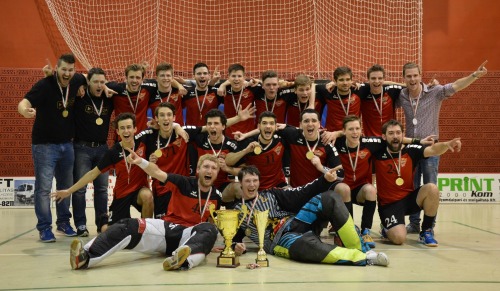 The finals, like the semi-finals, were also played with a best of three system. Phoenix managed to defeat SZPK 8-3 in their hometown. The next match wasn't that easy as it was played at SZPK's home rink. However Phoenix was able to win against SZPK 8-5 and regained their championship title after three years. They also qualified for the EuroFloorbal Challenge.
Not only Phoenix clinched the much-desired gold medal with a great performance, but they dominated the entire season without even losing a single point. The won all 14 games with an impressive goal difference (scored 136, scored against 40).
In the women's league, the playing system is different than in the men's due to the lower number of teams. Every team plays against one another four times in order to decide the winner. Neumann Pillangók FSE got ahead earlier of the season, and were able to stay in the first spot of the standings until the end. Neumann Pillangok FSE lost only two games during the season. That's why they secured their championship title a few weeks ago when they played against last season's gold medalist IBK Cartoon Heroes. This year IBK Cartoon Heroes came second.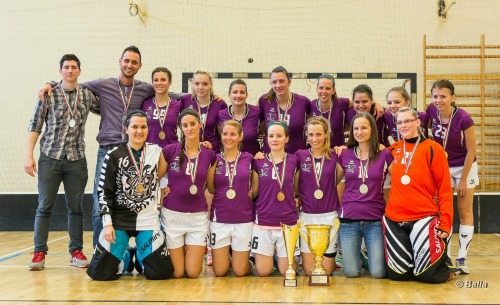 Neumann Pillangók FSE was efficient in scoring. The team scored 100 goals during the season. One of the best strikers of the team thinks the same way about it and the whole season:
– It's been a long journey, finally we reached the first place. We've worked so hard for this, had a good defense and scored plenty of goals. I am so proud of my team, love them all, said Réka Kovács, who finished the season as the top scorer of the league.
The champions (Phoenix & Neumann) might add another trophy to their collection, because they will both face SZPK Komárom in the Cup Final, which will be held on the other side of Danube, in Komárno, Slovakia this weekend.
Source and more information:
www.hunfloorball.hu ; www.facebook.com/phoenixfireball ; www.facebook.com/neumann.pillangok
Photos: Orosz Tamás and Balla Gyula