Vitkovice and Chodov had made their way to both the Men´s and Women´s Superfinal in Czech Republic. Vitkovice women won the title in front of 8711 spectators in the O2 Arena and a total of 12144 spectators watched Chodov win the men´s gold. This is a new attendance record in Czech Republic.
Both teams will play in the Champions Cup 2016 in Borås, Sweden.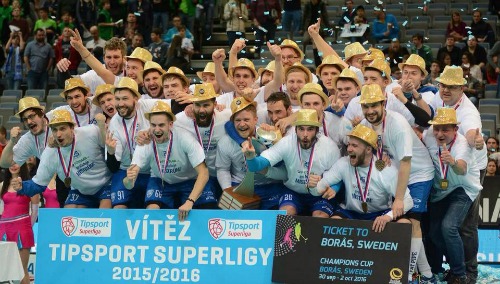 ¨
Chodov wins their first men´s title
The regular season winner Florbal Chodov met last season's silver medallist SC. Vitkovice in the men's Superfinal. Chodov had an efficient start as they were leading 2-0 after seven minutes. The rest of the period was controlled by Vitkovice as they evened the score just three seconds before the period ended.
The tight battle continued in the second period, where Vitkovice was better with numbers 2-1 and was leading against Chodov 4-3. Chodov got a chance to even the score in the start of the third period as Vitkovice's Lukas Pesat got a two minute penalty. Chodov was unable to use the opportunity, but scored a few minutes later. With only a few minutes left Chodov's Tom Ondrusek, who was also awarded as Chodov's best player of the match, scored the 5-4 winning goal which took Chodov to their first men's title.
Best players of the match:
Florbal Chodov: Tom Ondrusek
SC. Vitkovice: Adam Delong
Game statistics here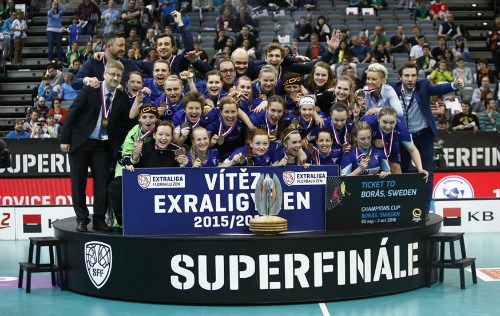 Vitkovice regains their championship gold
SC Vitkovice faced the reigning champion Florbal Chodov in the women's Superfinal. Chodov's best player of the match, Martina Repkova, was the first to score after two minutes. Ten minutes later Vitkovice evened the score and before the end of the first period Vitkovice was leading against Chodov 2-1.
The second period was quite eventful. Vitkovice got three two minute penalties, but Chodov was able to only utilise one power play. Vitkovice took the lead only two seconds before the end of the second period.
Vitkovice's Repkova scored her second goal in the third period and evened the score to 3-3.
The match went into overtime and then into penalty shots. Vitkovice's Petra Mandatova scored the decisive penalty shot goal.
Best players of the match:
Florbal Chodov: Martina Repkova
SC. Vitkovice: Lauma Visnevska (Goalkeeper)
Game statistics here