The semi-finals are over in Latvia and both the men´s and women´s finalists are set. The Superfinal will be played on April 9th in Arena Riga when also the WFC 2016 Group Ballot will take place.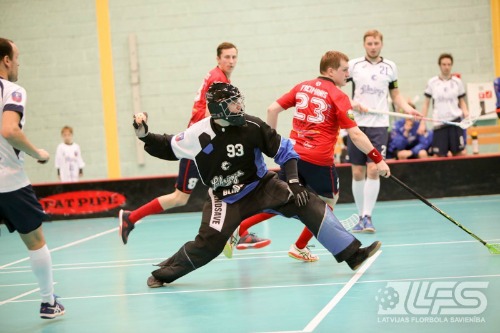 Elvi Liga Men
The regular season winner Lielvarde played against the reigning champion Lekrings in the semi-finals. The matches were tight and most of them went into overtime. Lielvarde was able to excel under pressure and won against Lekrings 4-1 (5-4, 9-8, 5-6, 4-3, 7-5).
The other semi-final pair was Mogo-RTU/Rockets – Ulbroka/FS Masters. The current silver medallist Mogo-RTU/Rockets made it to the final despite of Ulbroka/FS Masters's fight. Mogo-RTU/Rockets won the series 4-2 (5-12, 4-6, 5-4, 6-5, 3-5, 1-9).
Men´s Superfinal:
Lielvarde – Mogo-RTU/Rockets
Source and more information: www.floorball.lv/lv/2015/chempionats/vv/playoff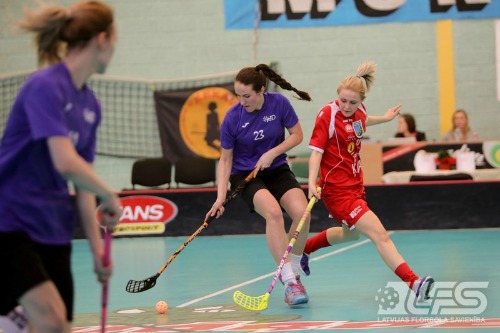 Elvi Liga Women
The reigning champion, Rubene, played against Rigas Lauvas in the semi-final. Rigas Lauvas was no match for Rubene. Rubene won four matches in a row (11-4, 11-0, 6-4, 8-2) and will defend their title in the Superfinal for the second time in a row.
The second semi-final pair FK "Kekava" – FK NND was more even. The current silver medallist Kekava took the first two wins (7-6, 4-3), but FK NND impressively won the next four matches in a row (4-5, 4-6, 3-4, 4-5) and made it to the Superfinal.
Women´s Superfinal:
Rubene – FK NND
Source and more information: www.floorball.lv/lv/2015/chempionats/sv/playoff
WFC 2016 Group Ballot during Superfinal
The Men´s World Floorball Championships (WFC) 2016 will be played in Riga, Latvia and the Group Ballot for the 11th Men´s WFC Final Round will take place in Arena Riga before the Men´s final. More information can be found here.
Photo: www.floorball.lv