The Canada Cup 2010 was played during the weekend at York University, Toronto. The victory of the Men´s Elite division was achieved by Salming Vikings. The team was led to the championship by captain Andreas Ackevi. In the Final Vikings won Ottawa Blizzard 9-2.
The Vikings led 5-0 in the first period and cruised the rest of the way behind their Captain and tournament MVP Andreas Ackevi:
– We were clicking right away with some crisp passing that allowed us to score some beautiful goals and we never looked back. Ottawa is a much better team than the score would suggest.  They fought hard and beat some good teams to get to the final.  Our guys were simply on fire and our goalie made some great saves, said Ackevi, who plays for Caperio/Taby FC in Sweden.
Ottawa was impressive in its semi-final match-up against past tournament champions NYC Floorball advancing to the final thanks to a hard-fought 5-4 victory. The Vikings, meanwhile, edged out SKP Nymburk of the Czech Republic 3-1 to advance.
– The chemistry on our team could not be matched, said Juha Mikkola, who pulled double duty as a defenseman for the Vikings and Co-Chair of the Canada Cup.
– It was a treat to play with guys like Andreas and Magnus Augustsson, who are two of the best players to ever play in our tournament from Sweden. The fans saw some great action and the level of play just keeps getting better each year at every level. Floorball has firmly taken root in Canada, as more and more hockey people are taking up the sport as a form of off-ice training.  It's certainly doesn't hurt to have the endorsement of the Hockey Canada Skills Academy, Ontario Minor Hockey Association and the Toronto Maple Leaf Hockey School, Mikkola continued.
CANADA CUP FLOORBALL CHAMPIONSHIP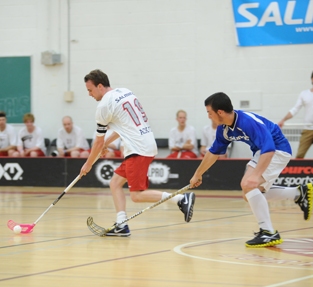 At York University
Elite Division
Semi-Finals:
Ottawa Blizzard – NYC Floorball 5-4
Salming Vikings – SKP Nymburk 3-1
Championship Final:
Salming Vikings – Ottawa Blizzard 9-2
Intermediate Final:
Young Guns (Montreal) -Innebandy Chicago 4-2
Bantam Final:
Salem Panthers (Sweden) – Mississauga Red Devils 4-1
See all results from: www.playfloorball.com