The 2nd championships in Belarus (OFL) have been played and the champion and "Azhel Cup" holder is "Vendetta" for the 2nd time.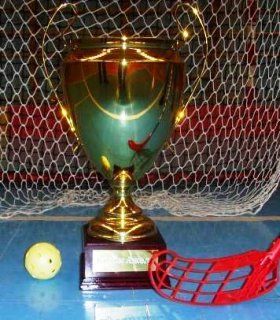 As last year first two games of the Final series ended in victories for Vendetta. The third game almost resulted in a loss for Vendetta when Dynamite that was eager to achieve a victory, was leading with 6-4after two periods.
Dynamite played without their first goalkeeper Sergei Mashinistov, who received a match penalty in the last game for fighting with the Vendetta forward Eugene Muraviev, who also received a match penalty.
Vendetta was able to improve their game in the final period and scored five times without letting in a single goal and repeated the last year success, winning the Final series with 3-0.
Team Vendetta will represent Belarus in the Euro Floorball Cup Qualifications in the end of August (preliminary dates 25th – 29th).
21.03. Vendetta – Dynamite 9:6 (2:2, 2:4, 5:0)
Goals: Zaharov (4), Martinchik (3), Pozniak, Arabei – Saltanov (2), Pobortsev (2), Gatitsky, Shulga.
Team Vendetta 2010
Goalkeeper: Eugene Drozd.
Defenders: Yuri Zaharov (C), Maxim Arabei, Dmitri Lukashevich.
Forwards: Arthur Martinchik, Eugene Muraviev, Andrei Parfimovich, Maxim Pozniak, Alexei Elisavetsky, Andrei Prashkovich, Yulia Romanjuk, Yuri Makarevich.
Final Standings:
1. Vendetta
2. Dynamite
3. Stella
4. Grunvald
5. Partisan
Source & Picture: Yulia Romanyuk/

Belarus Floorball Federation