Eight teams are striving to become Chinese Champions, in the yearly Floorball Championship Tournament in Beijing on the 10th of April 2010.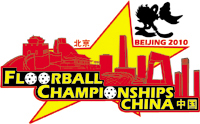 The different Floorball teams and groups are gathering together in the yearly Chinese Floorball Championships played for the fourth time in the British School of Beijing (Shunyi Campus) organised by the Beijing Ducks.
Similar unofficial Floorball Championships have however been organised in China for over 10 years. Floorball is not yet a recognised sport in China, but it is now played in Universities in Shanghai and Floorball can be chosen as a subject by the students and the aim is to make Floorball more popular amongst the Chinese population.
Hong Kong team participating for the 1st time
The tournament will be played with a total of eight teams, out of which two comes from Beijing – the Beijing Ducks and the Beijing Swedes. Three teams are participating from Shanghai region- the Shanghai Sharks, the Shanghai Hakkapeliitat and the Suzhou SSV. Two teams are travelling to Beijing from Guangzhou –  Guangzhou Taipans and Team Canada Guangzhou. One team will also participate from Hong Kong, the HK Fashion Boys Floorball Club and is the first time that a team from Hong Kong will participate in the Championships.
The Shanghai Hakkapeliitat are the reigning champions after defeating the 2008 champions, Shanghai Sharks, in the 2009 final.
The tournament will be played in two groups of four starting in the morning, with the two best teams in the group advancing to the semi-finals and the rest to the placement matches. The final will be played in the evening.
The aim is to start a more organised form of activity in China in the coming years and the future development options will be discussed by the different Floorball groups during the tournament. The goal is also to open common web portal for all the teams in China.
Source & More information from:
Oskar Helling/Shanghai Hakkapeliitat, oskar.helling@gmail.com
Teppo Helles/Beijing Ducks, fcbeijingducks@gmail.com