FLOORBALL BL2009, the promo floorball tournament in Banja Luka (BiH), gathered a lot of media coverage and at the same time it was a test for a possible future Floorball Balkan League.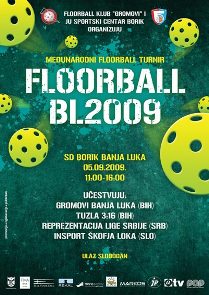 Last weekend, the first promo, regionally based floorball tournament FLOORBALL BL2009 took place in Banja Luka (Bosnia and Herzegovina). Four teams from Slovenia, Serbia and Bosnia and Herzegovina participated at the tournament organized by Floorball Club Gromovi Banja Luka and supported by InSport d.o.o. from Slovenia.
Floorball Club InSport Skofja Loka (SLO) won all of their four matches during the tournament and won the Floorball BL2009 after defeating the team from Tuzla in the final. Junior teams of Gromovi and Tuzla 3:16 also played a match, their first in a 40 x 20 meters rink.
Media coverage
The tournament was followed by a media campaign that included TV and radio introductions and commercials with national coverage, interviews, articles in 5 biggest daily newspapers in Bosnia and Herzegovina, 5 billboards within Banja Luka city centre, posters, and other promotional material. For the first time, a TV station from Bosnia and Herzegovina broadcasted a part of a floorball match.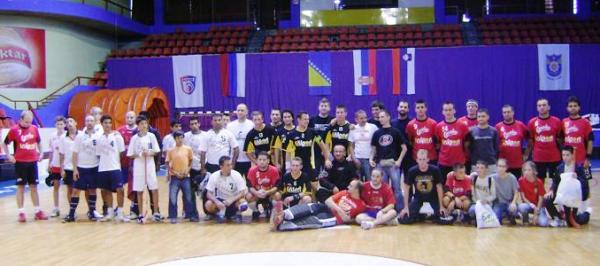 Feedback from the participants
"The organization of the tournament was excellent. On behalf of Floorball Club InSport Skofja Loka and myself, I must say that we were pleased to participate at the FLOORBALL BL2009 tournament and are looking forward to play at the next one. The tournament was a great start for the following regional cooperation and development of floorball in the region. We wholeheartedly believe we are going to succeed in future regional floorball league and regional cooperation. Once again congratulations to Floorball Club Gromovi and thank you for the hospitality and wonderful weekend we spent in Banja Luka."
Robert NAMAR, FbC INSPORT Skofja Loka
"It was a pleasure to participate at the FLOORBALL BL2009 tournament, which was very well organized. Our intentions are to continue to work jointly on development of floorball in the region. Floorball Balkan League is an excellent idea that can be implemented by our mutual efforts. We all truly believe in its success."
Predrag VELJOVIC, Serbian Floorball Federation
The tournament was an on field test for Floorball Balkan League and represents an organizational role model of the future regional league.
Source & Pictures:
Dragan Vucic, Floorball Club Gromovi Banja Luka, Bosnia and Herzegovina