The APAC was for the first time played in Korea, with six Men's teams and three Women's teams. The tournament was well organised by the Korean Floorball Federation in the city of Pyeong Taek, which had put a lot of efforts in place.
– "Everything worked very well in the venue, with a lot of visibility for the event in the city and with a vast TV coverage in the Korean main sports news broadcast", says Mr. Klaus Koskela, IFF Referee observer.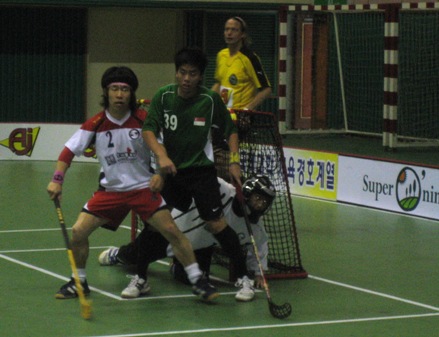 The Japanese men's team beat Australian with 9-4 in the decisive game for the gold medal, after a convincing performance. The match was of a high international standard, with a lot of technical talented players especially in the Japanese team. The Australians were not able to break through the though defence of the Japanese.
Singapore which has been controlling APAC, participated with a development team, which had to admit that the much stronger Korean team outplayed them with 7-2.  Malaysia took the fourth place and gave India a lesson in how international Floorball is being played, after the 25-0 result kicking Singapore to the fifth place.
In the women's tournament the Japanese women won the Singapore development team twice, showing a strong developing team with a clear game plan, which will be interesting to see at the World Championships in Västerås, Sweden. The Korean women's team was a positive surprise; despite that it was their first tournament, not giving up in any situation.
AOFC Central Board meeting
During the APAC, the Asia Oceania Floorball Confederation held its Central Bard meeting discussing the development of Floorball in the region. IFF will together with the AOFC organise two Floorball Development Seminars  (India and New Zealand) and a development workshop for educators in Singapore in September.
Next year APAC will be played in February, serving as the Asia-Oceania World Floorball Championships Qualification tournament, where three teams are to be qualified for the World Floorball Championships in Finland.