The season 2008-2009 has been a very important one for the evolution of floorball in Belgium.
The BFF has now 4 leagues with a total of 37 participating teams (19 teams in the previous season): adults, U18, U15 and U12. In all categories the battle for the title is very tight but especially in the adults, with 4 rounds left all five first teams are within 2 points. Waterloo Lions is leading the league with 22 points, FBC Stimulo Denderleeuw and FBC The Mighty Devils Aalst have both 21 points, Speedhoc Brussels and Union Beynoise Unihockey have 20 points. FBC Stimulo Denderleeuw and Speedhoc Brussels have played one game less and are facing each other in a postponed game on Sunday 22nd of March. The remaining league rounds are played on 29th of March, 5th of April, 19th of April and 10th of May.
In the past two years the Waterloo Lions won the Belgian championship with former Swedish football international Pär Zetterberg in their team.
The growth of floorball in Belgium is clearly visible in the evolution of the licensed players:
in 2005-2006 144 players,
in 2006-2007 320 players
and this season the BFF has reached 733 players.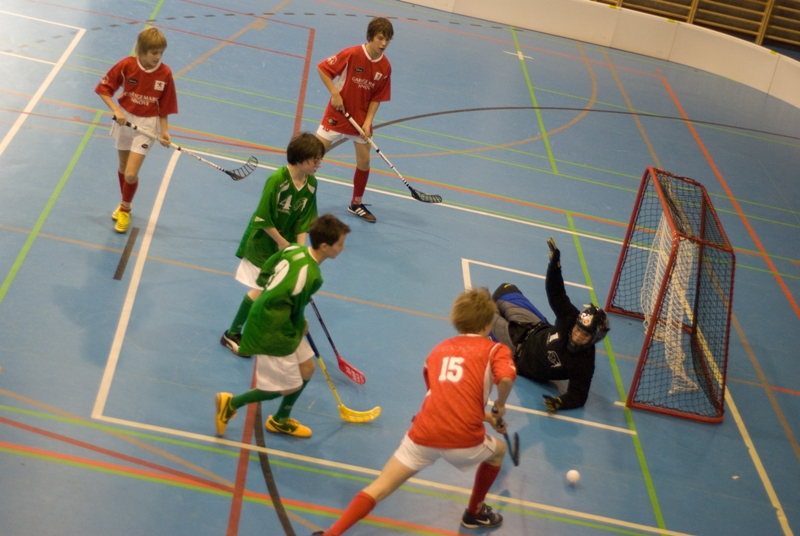 The five committees within the Belgian Floorball Federation (events, referees, league, sponsoring & support and national team) will need to be reinforced given the growth of the sport in Belgium. Nevertheless the actual committee members have delivered some important achievements:
After an inactivity of two years the Belgian national team has been put back on the tracks. The team lead by Swedish coaches Marcus Frisk and Daniel Borg has shown some promising results in the friendly games against Belgian Dutch and French neighbours.
A sponsoring agreement of 3 years was reached with floorball manufacturer Unihoc.
The annual referee course has been organised for the fifth consecutive time with the appreciated help of the Swiss Floorball Association.
On Wednesday 1st of April the BFF has a meeting with the Secretary General of the Belgian Olympic and Interfederal Committee to discuss the possible recognition by the BOIC.
Text:
Giovanni Lombardi, President of BFF
Pictures:
Geert Vanderstappen
and Pierre-Yves Potelle