The fourth President Cup was played in Ansan the 24th to 25th of May 2008. There were 5 Men´s teams and 4 Women´s teams participating in the tournament.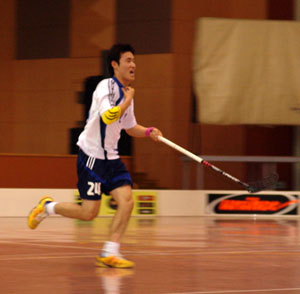 For the first time one and the same club won both the Men´ and the Women´s Championship title. The team winning the double was Incheon White Angels.
It was also the first time that the team, with foreign players became only fifth in the tournament. This proves that the Floorball teams in Korea are constantly improving their play.
Men´s final standings:
| | | | | | | | | |
| --- | --- | --- | --- | --- | --- | --- | --- | --- |
| | CLUB | W | T | L | P | GF | GA | |
| 1. | Incheon W. Angels | 3 | 1 | 0 | 7 | 22 | 4 | +18 |
| 2. | Gangwon Buffalo | 3 | 0 | 1 | 6 | 9 | 14 | -5 |
| 3. | Jong ro F.L.C | 2 | 0 | 2 | 4 | 10 | 10 | 0 |
| 4. | Ansan Pheonix | 0 | 2 | 2 | 2 | 9 | 12 | -3 |
| 5. | Floor Moppers | 0 | 1 | 3 | 1 | 5 | 15 | -10 |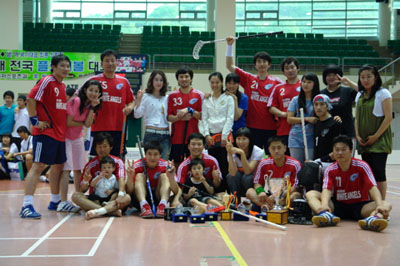 Team Incheon W. Angels
Women´s final standings:

| | | | | | | | | |
| --- | --- | --- | --- | --- | --- | --- | --- | --- |
| | CLUB | W | T | L | P | GF | GA | |
| 1. | Incheon W. Angels | 3 | 0 | 0 | 6 | 23 | 7 | +16 |
| 2. | Ansan Pheonix | 2 | 0 | 1 | 4 | 13 | 8 | +5 |
| 3. | Red Buffalo | 0 | 1 | 2 | 1 | 4 | 9 | -5 |
| 4. | Jong ro F.L.C | 0 | 1 | 2 | 1 | 0 | 16 | -16 |
Text & Pictures: Mr. H.J. Kim/KFF