Eight teams from Russia, Finland, Sweden and Belarus played the first ever international floorball tournament St. Petersburg, the Gagarin Cup 2008, which took place on April the 11th to 13th.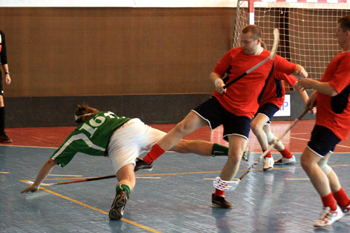 The reigning Gagarin Cup champion, team Turmalin from St. Petersburg, susprisingly lossed in the semi-final to team Technic from Nizhny Novgorod and in the final match Uppsala Teknologer IBK from Sweden defeated their opponent, team Technic, quite easily.
The tournament was refereed by Russian referees who participated in the floorball referee seminar in Finland two weeks before the Cup. It was commonly noticed that the refereeing during the tournament was of better quality than before.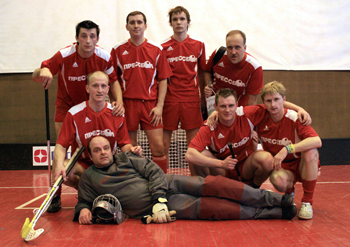 The tournament became more significant because of the first ever appearance of the Belarus national team (pictured on the left). The Belarus team won the game for 7th place against SamPo from Lappeenranta.
Floorball in Belarus is going to become much more popular in the future because of the numerous ice hockey players that have found floorball. At the moment there are two teams in Minsk and the next step for Belarussians will be to establish an official national association and then to become a member of the international floorball family.
Text & Picture: Egor Kretsan/St. Petersburg