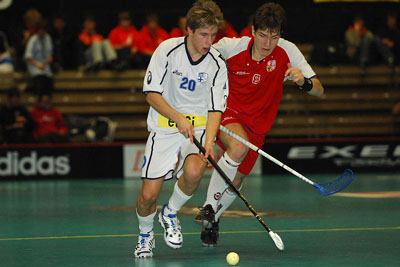 The Czech team made history today, by being the first Czech U19 team to make it to a final.
Czech Republic-Finland was very entertaining right form the start although both teams played well defensively and there were not many scoring opportunities.
Jan Jelinek (Cze) scored the first goal after a good shot from the middle of the field. As Juha Tikka scored an equaliser in 14.19 it was 1-1 after the first period.
The 2nd period was Czech Republic´s although Finland scored the first goal. After that the Czech´s equalised and then missed a penalty shot, but did not miss on powerplay when Jiri Curney scored. Then the Czech´s Jiri Krecmer got a golden chance, he received the ball just as he was coming out of the penalty box. Then he was all alone against the Finnish goalie and did not miss, 4-2 to Czech Republic.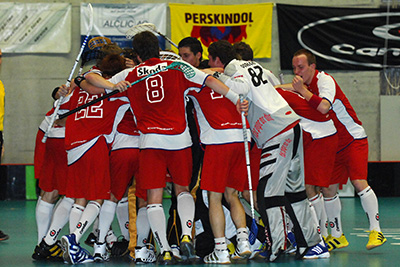 Finland starting to give more pressure in the third period, which paid off with a goal. This also led to counter attack opportunities for the Czech´s and Jiri Curney could score two more goals – a hat trick for him today. Finland played much without the goalkeeper, but the Czech´s played very well defensively and did not let Finland into the best scoring sector. One goal more from Finland, but this was not enough and the result was 6-4 for Czech Republic in the biggest sensation so far in the tournament.
The only time a Czech team has made it to a final, was in the Men´s WFC in 2004, which was also in Switzerland (Zürich).
The Czech Republic´s Men´s under 19 team have one bronze medal from 2003.
Best player Finland: Tuomas Turunen
Best player Czech Republic: Jan Barak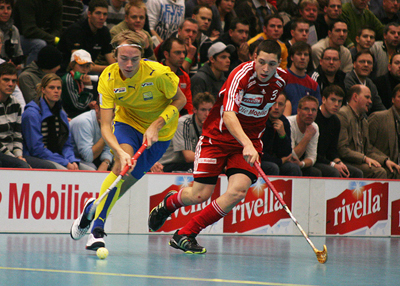 No team has yet been able to challenge team Sweden, and the home team Switzerland was no exception. Switzerland was not able to keep up with the Swedes and the game was already 6-0 before the Swiss scored their first. The final result was 14-1 to Sweden.
The Zuchwil arena was sold out when 800 spectators were following the match
B-division semi-finals
Team Denmark made it to the final as they continue to stay undefeated after taking an impressive 11-6 victory over Estonia in the first semi-final.
In the other B-division semi-final Germany started well versus Austria and got into a 4-1 lead in the first period. Germany played a good match and went their own way. The final result was 11-2 to Germany.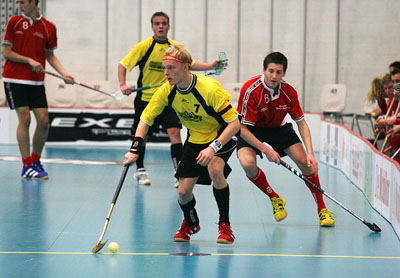 Germany was ranked 13th before the WFC and is one of the teams which has improved a lot during the last couple of years.
The same can be said about Austria, which made it to the championships through qualification and now plays its first ever U19 championship.
Best player Germany: Martin Müller
Best player Austria: Helmut Koloini
| | |
| --- | --- |
| Tomorrow´s matches A-division: | Tomorrow´s matches B-division: |
| A-division bronze match: Finland-Switzerland 13.00 | B-division bronze match: Austria-Estonia 10:00 |
| A-division final: Czech Republic-Sweden 16:00 | B-division final: Germany-Denmark 13.00 |