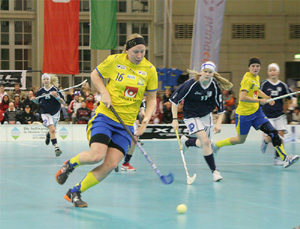 An amount of 1.300 spectators had arrived to the Grube Halle to follow the exciting Final. Right from he start it was evident that the two teams playing in the final, Finland and Sweden, were the two best teams in this competition. The game was much faster than in the previous matches with both the ball and the players moving much quicker.
Finland was the team scoring the first goal after a penalty shot. Nina Rantala managed to feint the Swedish goalkeeper and the score was 1-0. But then Sweden had some totally open scoring opportunities when Finland did some marking mistakes, and Johanna Dahlin was left without guard, she could then even the score to 1-1. Sweden got into the lead for the first time during a Finnish 2 minutes penalty with a shot from 12m distance and just before the end of the first period Sweden could increase their lead to 3-1.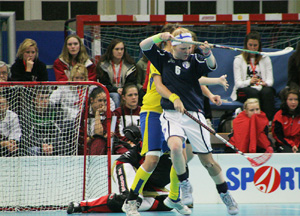 In the second period the game started to get tougher, but still very entertaining. Sweden had some very good chances in the beginning of the period but when the Swedes lost the ball during an attack Finland took advantage of the chance and scored the 2-3 goal. Then during a Swedish penalty, Laura Mertsalmi shot from far distance and the score was 3-3. Shortly after, Johanna Dahlin could however put Sweden to a 4-3 lead again, after a nicely finished counter attack.
Both teams had many scoring opportunities in the beginning of the third period and either one could have scored. It was Victoria Wikström from Sweden who used her scoring chance in 48:46 and put Sweden to a safe looking 5-3 lead. Also Finland had some really good chances and Eliisa Alanko got two times face to face with the goalkeeper, but Emmy Persson in the Swedish goal did some great saves. When Louise Wickström increased the lead to 6-3 the match was over. Finland still tried to score without the goalie, but this lead to one more Swedish goal and the third goal for Johanna Dahlin in 57:31. This was also the final result and Sweden could repeat what they did in 2004 and are the Women´s Under 19 World Champions 2006.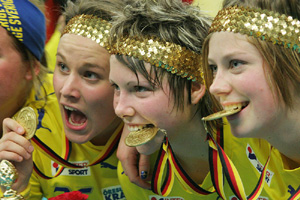 Best players:
Janette Loponen/Finland
Louise Wikström/Sweden