Sweden started strong in the first semi-final match that gathered approximately 800 loud spectators to the Grube Halle in Leipzig.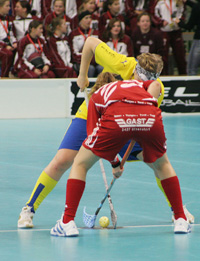 The Swedes had many good scoring opportunities during the first minutes, but it was Switzerland that scored the first goal of the match in 1:11.
Sweden controlled the ball, but many of their shots missed the target. In 8:41 the Swedish team finally succeeded, and scored their first.
The Swedes continued to play well and were especially very strong in front of the goals. The result was four more goals for the Swedish team, the last being an unfortunate own goal. Switzerland had few, but dangerous scoring opportunities and also a penalty shot, but did not manage to score more in the first period.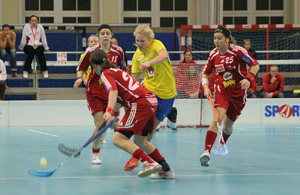 The second period of this very physical game started with a Swiss goal, but after that the Swedes outplayed their opponent. There always seemed to be a Swedish player free in front of Switzerland´s goal and the score was 10-2 to Sweden after the second period. When Sweden continued from where they had left in the third period the final result was 15-2 to Sweden.
Sweden will play in the final against the winner of the second semi-final at 17:00 tomorrow and Switzerland will play for the bronze at 14:00 against the loser of the second semi-final.
Shots on goal: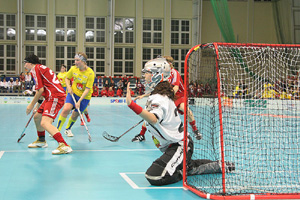 Sweden: 68 /Switzerland:16
Best players:
Matilda Rotvall/Sweden
Alexandra Frick/Switzerland