The second semi-final match between Finland and Switzerland started at 19:00 CET in Grube Halle in front of approximately 700 spectators.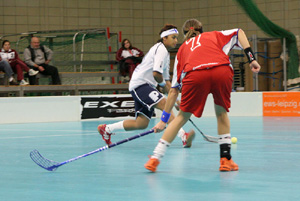 The match was mostly played in the Czech Republic´s defensive zone during the first period, but the Finnish players had difficulties getting into the best scoring positions.
The Czech team also had a couple of good counter attacks that could have resulted in a goal, but it was Finland that scored the first goal after 15 minutes of play. The score was 1-0 for Finland after the first period.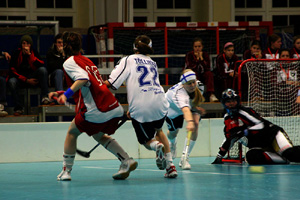 In the second period Finland surprised the Czech goalkeeper twice with shots from far distance as well as during the Czech team´s powerplay and the game seemed to be over. But just before the end of the second period the Czech team scored their first goal and they were not yet out of the match.
The score was 4-1 to Finland after two periods.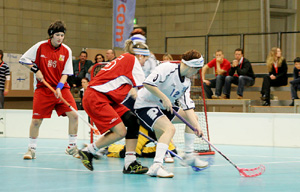 The third period was by far the most exciting so far in these championships. The Czech team scored after only 48 seconds. Their tactic, based on strong defense and counter attacks, worked really well today. And when Finland was not able to score from their opportunities the Czech team answered with their fast attacks that lead to yet another goal with five minutes left in the period.
The score was suddenly 4-3, the Czech team being only one goal behind and nervosity started creeping in. Czech Republic did not give up and the team tried hard until the end, playing the last seconds without the goalie, but this was not enough tonight. Finland won 4-3 and will play against Sweden in the Final at 17:00 tomorrow and the Czech Republic will play for the bronze against Switzerland at 14:00.
Shots on goal:
Finland: 21 /Czech Republic: 21
Best players:
Jenni Tuominen/Finland
Zuzana Sedlakova/Czech Republic