The Swiss team won the bonze medal today in the Globe Arena.
The Swiss players Michael Zürcher and Adrian Zimmerman started very strongly in the first period. When only 3:16 was played they had both scored one goal, thereby giving Switzerland a 2-0 lead. Then the Czech team also started to get good goal scoring opportunities and when 18:42 was played the Kozusnik brothers reduced the Swiss lead to 2-1. This was also the result after the first period.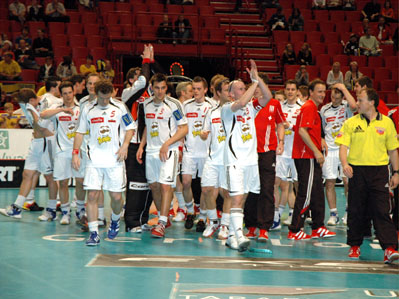 The Swiss team came more concentrated into the second period and again managed to score two fast goals. The score was then 4-1 after only four minutes of the second period. When the Swiss took a two minutes penalty the Czechs had some good chances but did not manage to score. The Swiss however, continued their strong play and Jonas Scheenberger increased the lead to 5-1.
There were a lot of goals scored in the third period. The Kozusnik brother continued to perform well and they got the Czechs as close as 3-6, but this was the closest the Czechs could get. Switzerland increased their lead again and at the final whistle the result was 9-4 for Switzerland.
The best player of team Czech Republic was Martin Ostransky and the best player of Switzerland was Adrian Zimmerman.
Read more news from the official WFC 2006 website
See more pictures here